Girls' Basketball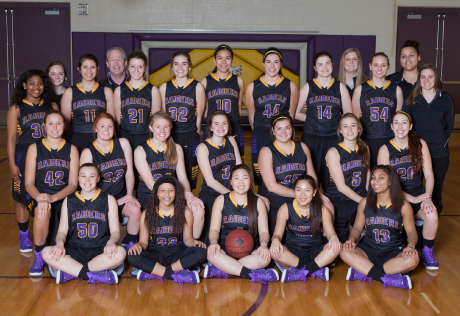 Overview
Cretin-Derham Hall Girls Basketball program offers competition at several different levels:  Varsity, Junior Varsity, B Squad and Ninth Grade.
Girls Basketball season begins Monday, November 17, 2014. The Varsity Basketball Season is 18 weeks in length with section playoffs held in early to mid March.  Junior Varsity and B Squad teams compete from late November to the beginning March. Ninth Grade teams will compete from December to late February.  Holiday Tournaments between Christmas and New Years are on the schedule for most teams in the program.  Each level will have practices Monday - Friday and most Saturdays.
Team Information
There is a Winter Sports Meeting on Monday, Oct. 20th, 2014 at 6:30 in the field house.  Student-Athlete and Parent(s)/Guardian(s) planning on trying out for Girls' Basketball should attend the meeting. If you are unable to attend the meeting, please contact Head Coach Joe Lynch

.

CDH Girls' Basketball Spiritwear Form for student-athletes and families. This online store will be open 11/26/14 through 12/3/14.

The fee to play Ninth Grade Basketball is $65. This fee includes a jersey top and shorts for games and practices. Checks for the Ninth Grade teams should be turned in the first week of practice once teams are made and payable to Cretin-Derham Hall. 

The fee for varsity basketball players will be communicated at the Winter Sports Meeting on Oct. 20, 2014 at 6:30PM.

Team pictures can be ordered from 

Michael Murray Photography

. Password is 15Raiders. Team photos and varsity action shots may be ordered from the Online Gallery.