2020-21 School Year Updates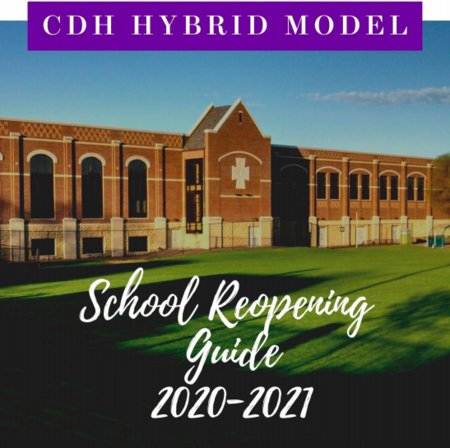 Reopening plan updated 9/23/20
Back to School Plan
Updated 2/23/21
CDH is pleased to announce our plans to offer the opportunity for all students to return to campus on March 15. We believe we have designed a model of instruction that is in the best interest of the CDH learning environment and that provides safety for our students and staff.
 
Thank you to the parents and faculty who completed last week's surveys. Those responses, along with feedback we have heard from students, were very informative as we strive to return to more in-person learning within a safe, COVID-aware environment.
 
The health and safety of our students and staff continue to be our primary concern. Our new learning model aligns with the CDC and MDH guidelines. We will continue to be aggressive about all mitigation measures and will monitor positive cases and exposures at school and within our community.  We are willing to adjust this model to address any new concerning COVID trends or to resume a more "regular" model when warranted.
 
Back to School Plan: Effective March 15, CDH will bring all students back on campus under MDH and CDC guidelines including 6 feet of social distancing. Parents/Guardians may choose to select Full-Time Distance Learning for their student.
 
Classroom Capacity
Classrooms will continue to adhere to student capacity limits that provide 6 feet of social distancing.
For many classes, the space in the classroom will not accommodate all students in that section. 
Some students will participate in class via Zoom in an alternate location on campus (i.e. the Griep Family Gymnasium, the cafeteria, the theater, etc.).
Teachers will design a schedule that evenly rotates students to the overflow space.
Contact Tracing and Quarantine
CDH will continue with aggressive contact tracing. With more students on campus, we expect that the rate of quarantine will likely increase. 
Beginning the third trimester, students and staff will be required to quarantine for 7-10 days per the MDH Guidelines.
Quarantined students will be placed on temporary distance learning, and may not participate in on campus activities or athletics.
We appreciate your continued cooperation reporting positive COVID cases in your home and any possible exposures. This is critical to the health and safety of our school community and our ability to remain open. 
Schedule
The new schedule will be in effect on Monday, March 15. Purple and Gold days will be scheduled on an alternating basis. In-person learners will attend school on every Purple and Gold day. In-person learners do not have the option to Zoom from home on Purple and Gold days. If they are not on campus on those days, they will be marked absent. Student Support Wednesdays will still be in effect so that distance learners and in-person students have the ability to connect with teachers.
 
Distance Learners
Students who are full-time distance learners will continue to Zoom into classes and follow their normal schedule.
Co-curriculars:

 Full-time distance learners may choose to participate in co-curriculars, including athletics and activities, with permission from the principal. This is a change from our current structure that restricted participation for all Full-Time Distance Learners. 

Distance Learning Survey:

 Parents/guardians selecting the distance learning option must complete this 

short survey

 

by Friday, February 26 at 8 am.  Families may opt in to distance learning at any time, however, may only return to full in-person learning at the mid-trimester. 
Lunch
Per MDH guidelines, students will be assigned a seat for lunch in locations throughout the building and will be seated 6 feet apart. While students are encouraged to bring their lunch from home, Taher will provide grab-and-go lunch options.
Senior lunch

: In order to provide more space on campus for lunches, and to give seniors a special privilege during this difficult year, seniors will be permitted to leave campus for the entire lunch period and FLEX time with rules that will be shared with seniors and parents in a later communication.
 
Traffic and Parking
Please remember that Holy Spirit has similar start and release times. We remind students and adults to drive carefully. We will provide detailed instructions to accommodate the increased traffic in future communications.
 
How you can help ensure this plan's success
Compliance to all mitigation strategies at school and at home is important to our success.
MDH still advises no travel outside the state of Minnesota. Those who travel and have not been vaccinated will be required to observe the 7-10 day quarantine. 
Please test your students and members of your household regularly, even if asymptomatic. This helps curb the asymptomatic spread, particularly as new variants are discovered. There are several rapid test sites in our area that have daily appointments for your convenience. For more information, 

click here for testing locations

. 

 
We recognize that this announcement may raise some concerns for some families. We ask for your patience as we plan and implement this new phase. If you have immediate questions, please contact our COVID Coordinator Katie Carroll at kcarroll@c-dh.org. 
 
We would never have imagined the trajectory of this pandemic almost a year ago when we first took measures to combat the new virus. With God's grace, we move forward, but with deep respect and sadness for the toll this has taken.
 
Thank you for your support as we continue to navigate through this pandemic. We are very proud of our community and our collective efforts to minimize the spread of the virus, while providing a strong educational experience for our students. Please continue to keep all those affected by the pandemic, especially those who have lost loved ones, in your prayers.
Previous Information:
February 3, 2021 - Hybrid School Update
November 13, 2020 - Announcing Wednesday Student Support Day
November 9, 2020 - Renewing Focus on Mitigation
September 25, 2020 - Synchronous Learning and Block Schedule
September 9, 2020 - FAQs About Hybrid Learning
August 5, 2020 - Our school reopening guide is now available.