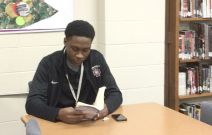 These students find joy in reading.
Reading
This page provides access to the CDH catalog, a database to search for novels, and other tools to help you select your next "read".  In addition to these resources, don't forget to – ask a friend, a teacher, your CASA mamas and papas, an aunt, uncle or parent, the lunch ladies – anyone you know who LOVES READING - and they are sure to provide you some great ideas!
Destiny Quest Catalog
Follett Destiny is the CDH online catalog.  You may also use the Destiny Quest app on your iPad. Your account has already been created, but will need to be linked to the CDH digital catalog (see the LMC staff).  Log in by using the username lastname.firstname and your student id as the password.
Tips for using Destiny Quest:
To search Destiny Quest: put a subject term, author, or title in the Find box and click GO.
You can do an advance search by clicking on the Advance Search button in the Find box and combine two words that will help you find books more closely related to your search (ex. World War II + Pacific.)
Once you've checked to see if a book is available, place a hold on it and pick it up in the LMC.
If it's an eBook you've located, click on the Ask button, then click on Additional Info tab and click on the electronic resource link.
Discover the top 10 most popular titles and new books.
Write your own book review and read other recommendations.
Complete the wish list for the librarian to consider adding that title to the CDH collection.
Review your account to find out when you books need to be returned or renewed.
OverDrive for eBooks
OverDrive is now available for fiction eBooks. We have joined with other local Catholic and private high schools to offer a great collection of eBooks. Select our school, and then log in with your own credentials. Incoming 9th graders, it's your last name.firstname.21 and your password is your initials and student ID#. 10th graders, t's your last name.firstname.20 and your password is your initials and student ID#. 11th and 12th graders, t's your last name.firstname and your password is your student ID#.
Explore Recommended Titles
Best Fiction for Young Adults - YALSA names 2016 Best Fiction for Young Adults. "The 2015 list reflects the results of Committee members' dedicated reading of hundreds of YA novels to formulate its final list. It is also a reflection of both the splendid diversity of literature for young adults and the wide-ranging interests of teen readers," said Michael Cart, Chair of the BFYA Committee. "The titles range from a novel in verse about identical twin brothers who are gifted basketball players to an imaginative novel about a boy who is revived five years after his head was cryogenically frozen."  Prior to 2011, the list was named Best Books for Young Adults (archive).
Booklist Editors' Choice: Adult Books for Young Adults, 2014. Selected by the Books for Youth editors, the following titles constitute the year's best personal reading for teenagers among adult books published 2014.                                                                                         
Outstanding Books for the College Bound and Lifelong Learners - 2014 Outstanding Books for the College Bound and Lifelong Learners - previous Outstanding Books for the College Bound lists. Following the lead of the previous twenty-first century lists, the 2014 list is designed to mirror academic disciplines. It is divided into five categories: Arts and Humanities, History and Cultures, Literature and Languages, Science and Technology, and Social Sciences. It is a combination of fiction, nonfiction, and poetry. Titles were selected based on criteria including readability, racial and cultural diversity, balance of viewpoints, variety of formats and genres, and title availability. The committee did not seek to define, or redefine the Canon, but to instead offer new ideas and lenses, to open up new areas to explore and learn. A YALSA committee of public and secondary school librarians selected the 2014 list in collaboration with academic librarians from the Association of College and Research Libraries (ACRL). Revised every five years, this list is intended as a tool for several audiences: students preparing for college, parents, educators, and librarians.
Michael L. Printz Award for Excellence in Young Adult Literature – March wins 2017 Printz Award - previous Printz winners. This is an award for a book that exemplifies literary excellence in young adult literature.