Voices of Cretin-Derham Hall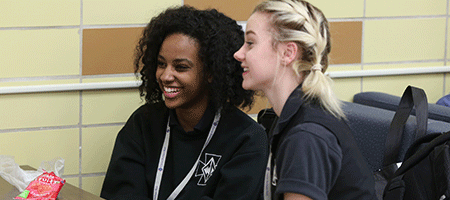 To get a sense of why students choose CDH, we asked a few of our current students to tell us why they chose to spend their formative high school years at Cretin-Derham Hall. Here's what they had to say.
Courtney Sunberg '16

"There are many reasons I chose to attend CDH. I heard about the great teachers, clubs, sports, and all the activities that go on at CDH. But the reason I chose to go to CDH the most is because of the connections that people make. My sisters told me that CDH was their second home. They felt like they could find connections with a lot of different people and they felt like they belonged. I enjoy our school's sense of community and how we are all connected to one another. I chose to attend CDH because of the family that is created each year."
Maria Gleason '15

"Cretin-Derham Hall stood out to me amongst other high schools because of it's comfortable, relaxed atmosphere and enthusiastic community. Students can contribute to classroom discussions, talk with fellow peers, or converse with teachers with immediate ease; there is not even the slightest inclination to feel self-conscious or concerned. The overwhelming sense of community is so incredibly comforting and undeniably welcoming that there is truly no greater place I would want to be. CDH is more than just a school, it has become a second-home of sorts to me. I feel incredibly blessed to have had the opportunity to attend such a marvelous place that honestly provides so much more than simply an education."
Riley Domler '17

"The sense of community here at Cretin-Derham Hall is unparalleled at any other school. This really struck me as a very unique characteristic when I was looking at high schools. There really is a place for everyone here. Ultimately, I chose CDH because it has the perfect blend of community, challenging academics, and higher-level athletics."   
Emma May '15

"Joining the Cretin-Derham Hall family has been amazing! My high school journey started at a public school and quickly my parents and I felt that something was missing from the experience. I decided to visit Cretin-Derham Hall because of its tradition and reputation. Everyone was so welcoming and accepting and that helped me realize that Cretin-Derham Hall was my true home.
"Cretin-Derham Hall has given me such amazing experiences and memories I will always keep with me. It is also a place I feel comfortable being myself. I really enjoy the class size, the focus on learning, and preparation for college both academically and athletically. What really makes Cretin-Derham Hall special for me is that I am not just a number or a name. I feel that I am part of the Cretin-Derham Hall family and tradition of our school."
Denzel Fondungallah '17

"I chose to attend CDH because of the sense of togetherness and community. When I shadowed here as an 8th grader, I felt that everyone in the building belonged and was part of one family. Unfortunately this year we lost three students from our community and after going through that difficult time, my choice for attending CDH was solidified through the way the student body, faculty/staff, and community rallied to support one another. The bond formed during that time was unforgettable and one I'll never forget."