Fitness Center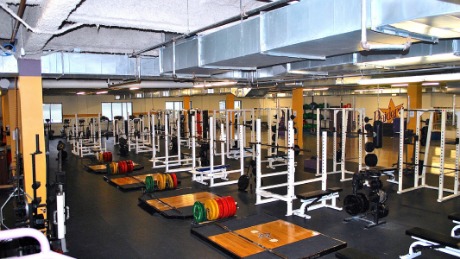 Nutrition Seminar
We are having Luke Corey, a sports nutritionist with EXOS/ Mayo Clinic, come to speak about "Fueling for Performance: Nutrition for the Youth/ High School Athlete." The presentation will be on  Monday, June 13th from 9am-10am in room C202, the Jazz Room.  It is FREE to all CDH students.
Raider Edge Summer Training
The Cretin- Derham Hall Fitness Center is one of the most versatile and state-of-the art facilities of its kind in the Midwest.  The 10,000 square foot training area has a variety of equipment to meet the needs of the students of Cretin- Derham Hall.  Whether you want free weights, cable machines, a variety of cardio machine options, or space to work on plyometrics and running- the Fitness Center can deliver.
For more information, please email Jerry Macken at gmacken@c-dh.org or call the Fitness Center at 651-696-3348.
Fitness Center Hours will be posted for the summer in April.
Ages:  7th- 12th Grade (for 2014- 2015 school year)
Typical Participation Includes:
2-4 days a week of weight training, agility, and speed development   
Education on training principles, nutrition, and other aspects of human performance
An opportunity to meet new people in a fun atmosphere
An opportunity to improve yourself in a team setting
Cost: $150 allows participation in any of the fitness center offerings and use of fitness equipment during scheduled hours. 
Instructor: Director of Strength & Conditioning Jerry Macken & Staff 
Questions:  Jerry Macken
Email (preferred): gmacken@c-dh.org
Phone: (651) 696-3348
Group Training is based on sport participation.  Please come 5 min early of your sports training time.
Group

Training Time-

Baseball

Football

7:30- 8:30am Monday- Thursday

Girl's Sports Only                       

Lacrosse, Soccer, Swimming, Volleyball, and more

10:15- 11:30AM Monday- Thursday

JR High

Going into Grades 7 & 8

11:30- 12:30pm Monday- Thursday

Boy's Hockey

Boy's Soccer

12:15- 2:00pm Tuesdays & Thursdays

Wrestling

3:30-5:00pm Mondays & Wednesdays