Heard in the Halls - November 2021
November 10, 2021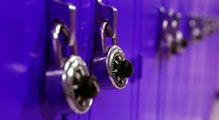 We encourage you to read all the current blogs, or click below to quickly go to a section.

ATHLETICS | COUNSELING | THEATER | JROTC 
Athletics
Boys' Basketball
By Tony Yazbeck, Assistant Coach
The boys' basketball team will honor senior captain Tre Holloman '22 today as he signs his national letter of intent to play college basketball at Michigan State University. Tre is the 11th Raider to play Division 1 basketball since 2015.
The boys' basketball team will host it's annual pre-season jamboree on Saturday, November 27. Twelve of the state's top 15 teams will play, including the #2 ranked Raiders. The event will run from 4 pm - 8 pm and tickets are $5.
On December 3, the boys' basketball team will host community and alumni night for our season opener against Saint Thomas Academy. We encourage all fans in our community, as well as alumni, to pack the stands as we take on the Cadets.
Boys' Hockey
By Matt Funk, Head Coach
We would like to congratulate hockey players Colton Jamieson '23 and Jake Fisher '23 on their commitments to play college hockey at the University of St.Thomas and Northern Michigan University respectively. 
Team Expectations: I fully expect this team to compete for a Conference Championship and be the favorite to represent 3AA in the State Tournament with a chance to do something special in March. We will have a good balance of veterans who have two years of varsity experience and hungry young talent that will pace this year's team. We will play with speed, passion, and pride that will be reminiscent of the great Raider teams of the past.
Girls Soccer
By Rachel Wilson-King, Assistant Coach
We are excited to announce that Caitlin Mulchay '22 has been selected to the All-State Second Team. This is a remarkable achievement considering that Caitlin tore her ACL during her 9th-grade season and was able to battle back to earn All-State recognition.
Baseball
By Buzz Hannahan '94, Assistant Coach
The baseball team is excited to have three Division 1 commitments. Cooper Smith '22 has committed to the University of St.Thomas. Smith was 3-1 last season with a 1.35 ERA and 58 strikeouts.
Ben Weber '22 has committed to the United States Air Force Academy to play Division 1 baseball. Weber struck out 55 batters in 50 innings pitched posting a 2.94 ERA
Jack Taxdahl '23 has verbally committed to play baseball for the University of Minnesota. Taxdahl  will play his first varsity game this season for the Raiders.
Softball
By Tony Yazbeck, Sports Information Coordinator
The CDH Athletic Department is pleased to announce the hiring of Aaron Vail as the new head softball coach. Vail comes to CDH with an impressive resume at the collegiate level and will take over a program that made their first trip to the state tournament in 30 years last season. Vail replaces Patrick Bowlin who stepped down to take a college basketball coaching position at the University of Wisconsin-Green Bay.
Counseling
By Joan O'Connell, College Counselor
Private Scholarships for College
Many private organizations offer scholarships to students intending to go to college. CDH seniors can find private scholarship information on their Naviance accounts. Just log in, click on "colleges," then "scholarships & money," then "scholarship list," then "Local & Regional Scholarships" to find the most updated list. All of the private scholarships that we have been made aware of will appear here and students can get all the information they need to apply in one spot. You can also do a search of a national scholarship database by clicking on "national scholarship search." Please remember to check these resources throughout the winter and spring as they are continually updated.
Be vigilant about college scholarship scams. Beware of any scholarship organization that asks you to pay a fee, promises scholarship money or touts money-back guarantees. Don't be fooled by official-sounding names that include words such as "National," "Federal" or "Administration". Never supply your credit card information to a scholarship site.
College Application Deadlines
A reminder to seniors that your CDH College Application is due to the Counseling Office no later than Monday, December 6 in order for your CDH supporting materials to be sent prior to the Christmas break. Remember that the Counseling staff will also be on break, so we must have your requests for any January 1 deadlines. We realize this can be a stressful time for seniors, so please see your counselor if you need assistance. Here is the link to the form: Class of 2022 College Application Contract
College Planning for the Class of 2023
Mark your calendars for Tuesday evening, December 7 for our program for juniors and their parents. More detailed information to follow.
Band and Choir
The Band will be holding a Veteran's Day concert tomorrow, Thursday, November 11, at 7 pm in the Joe Mauer Field House. The concert is free and will honor our veterans and active duty military.  
In the spirit of Christmas, the Concert Band, Concert Choir, and Jazz Band will perform festive and reverent music at the annual Christmas Concert on Wednesday, December 15th at 7 pm  in the Joe Mauer Field House
Theater
The CDH Theater department has cast the Children's Show, "The Velveteen Rabbit." "The Velveteen Rabbit" allows audiences to travel into the past when the Christmas season is most bright and children's toys are filled with special powers. CDH Theater invites family and friends to gather and celebrate the holidays with a play that helps children and adults rediscover the true meaning of friendship, loyalty, and the surprising power of love. 
The show runs December 10-12. Tickets are available now.
JROTC
By Col. Joe Scrocca, SGM David Berrisford, and MSG Ken Peloski
October was a great month to have the cadets back in the classroom and it also allowed the 9th graders to start in earnest their physical education classes.  
On October 29, the Raider Brigade conducted the Diamond Officer promotions and it was great to be able to promote our senior leadership in front of the whole school. 
We started our Co-Curriculars in November with the safety of the cadets and instructors in mind. The Color Guard has continued with a strong tradition of presenting the colors at the beginning of each football game, the Rifle Team started on November 1 with over 70 cadets planning to participate, and the regulation drill team is practicing in anticipation for the upcoming competitions later in the school year.
On November 1,  the Raider Brigade welcomed its new Senior Army Instructor, Colonel Joseph Scrocca. Colonel Scrocca is very excited to be here and we look forward to his leadership as a member of the JROTC staff.
Students that are interested in attending any of the academies, ROTC or military service should be completing the necessary applications and forms to move forward for the future. Let any of the instructors know if you need additional help!
Subscribe to our e-Newsletters
You might also like: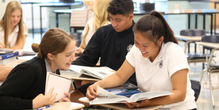 Scholarship applications are due February 1, so apply today!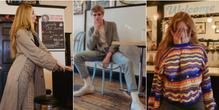 Vogue Club, new this year, allows students to learn about fashion design, modeling, and photography. By Greta Cunningham '23, Communications Apprentice.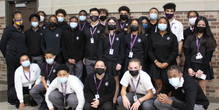 AFAM is a space for relationship building and fellowship, particularly between students of color.