Letter from the Principal - May 2022
By Mona Passman, Principal
May 11, 2022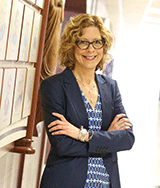 Dear Parents and Guardians,
Happy Spring! This was a remarkable year at CDH. I am proud of all we accomplished as a faculty and staff to improve student learning.   
First of all, thank you to our faculty and staff for a successful return to full-time in-person teaching and learning. The transition required us to implement new strategies to address the emerging social, emotional, and academic needs of students who have been impacted by the pandemic. Our teachers did so with equal parts grace and grit. 
We also remember our dear colleague, Joe Moss, as we reflect on the year. We continue to grieve his death while calling on his spirit to help us celebrate the young people whose hearts he touched. Joe had great faith in his colleagues to create the best learning environment possible and his influence remains among us.  
Some of the new initiatives this year included: 
·   We implemented a new daily schedule to enrich student learning opportunities. This required teachers to redesign lessons and units. It also required all of us to restructure our time and workflow.  
·   We established Professional Learning Communities for teachers. Our Instructional Leadership Team partnered with Mark Onuscheck from Solution Tree, to provide the professional development necessary to create a framework for Professional Learning Communities.  
·   Kim Royston '06,  joined our staff as our Director of Dignity and Inclusion/Assistant Principal. He will lead us through our diversity and inclusion initiatives and provide instructional support to faculty.
·  Regan McCormack was hired as our Human Resources Manager. Regan will support our efforts to provide ongoing staff development and maintain a positive work culture with opportunities for faculty engagement. 
·   Stan Davis '88 provided extensive professional development for all faculty and staff surrounding Dignity and Inclusion and led our continued Dismantling Racism efforts.   
·   We established new vehicles for faculty engagement. These opportunities included focus groups, interviews, a new charter of the Faculty Academic Committee of the Board, and faculty input into our vision and values.
·   We laid the groundwork for the Profile of a Graduate with the Faculty Academic Committee of the Board. This work will continue into the 2022-23 academic year. 
We have so much to be proud of as a school community! I look forward to sharing many of the highlights of the student experience in my June letter. 
Enjoy and celebrate these last few weeks of school,
Mona Passman, Principal
Subscribe to our e-Newsletters