Letter from the Principal - October 2020
By Mona Passman, Principal
October 14, 2020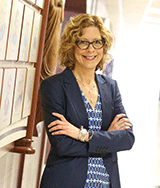 Dear Parents and Students,
We did it. Together, we are still going strong in our hybrid model. Yesterday we marked the mid-trimester with our on-line zoom conferences. We are all learning as we go. As a school community we have experienced our first confirmed cases of COVID-19, quarantined when necessary, switched our schedule and started synchronous learning.  We continue to establish new routines including social distancing, masks, proper hygiene, etc. We have also celebrated student participation in fall athletics and our fall play. Nothing is quite the same and yet, we continue to cling to the familiar rituals. They provide us with a well-deserved respite from the craziness in the world.
We knew it wasn't going to be an easy year and we are not immune to the challenges during this pandemic. I am really sad to inform all of you that two beloved teachers announced their retirement this week. Patty Murray, Spanish teacher, is retiring after 21 years at CDH so that she can live safely at home with her husband amidst COVID-19. Lourdes Wadell, also a Spanish teacher, is also retiring after 39 years at Derham Hall and Cretin-Derham Hall because of her health concerns amidst COVID-19. We have already hired Laura Wasenius to teach Patty Murray's classes and are working diligently to find a replacement for Lourdes Wadell.  
Both women are remarkable teachers in their own right. All their students and colleagues can attest to the impact they have made on thousands of students. They both have a passion for the Spanish language and compassion for their students. I will miss the enthusiasm they brought to teaching, the smiles on their faces and twinkle in their eyes when they interacted with students, and their sincere love for God and the dear neighbor without distinction. While we will miss them tremendously, we fully support them in their decisions to retire and wish them the best.
Their departure reflects the toll this pandemic is taking on all of us, particularly our teachers. We learned this week that the one-third of teachers surveyed in a recent Education Minnesota survey are considering leaving the profession.  While I do not believe that one-third of the CDH teachers will leave, I am very concerned about their health and well-being. Schools are being asked to do the impossible and teachers are stepping up to the challenge. We can't keep up this pace forever. It is unsustainable.  
Unfortunately, I do not have the be-all, end-all solution but I do know this…Teachers want to be with their students. Students want to be in school. I also know that we need to do a better job recognizing the role that teachers are playing during this pandemic. We need to recognize that they are professionals who are also leading their own lives amidst this pandemic. I know that I certainly fall short of letting our teachers know how much I appreciate them. Please join me in offering our support and gratitude to the CDH faculty.
Stay healthy and be well,
Mona Passman
Subscribe to our e-Newsletters
You might also like: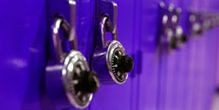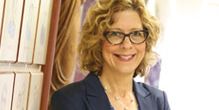 A message from Principal Mona Passman.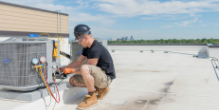 To make CDH even safer, new air purifiers are being installed.