Affordable Excellence For All
Achieve a superior education—inspired and memorable.
We embrace multiple intelligences knowing the best education occurs equitably, where every individual's learning strengths are honored, nurtured, and challenged within a rigorous academic curriculum.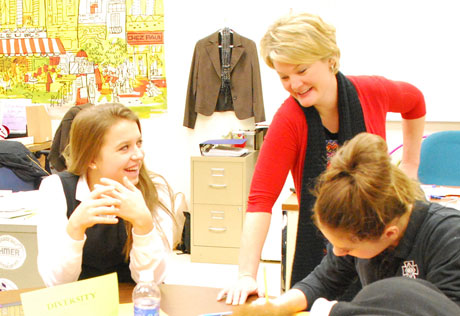 Inspired teachers educate the whole person and challenge their students to learn using innovative and creative methods.
Teachers Matter
Inspired teachers inspire students. Our teachers fuel the spirit of CDH. They make learning here an unforgettable experience for every student. Throughout Cretin-Derham Hall, academic endeavors abound. We offer nearly two hundred different courses, and students pursue knowledge at the college prep, advanced placement, and honors level, taking advantage of learning lab, JROTC, interdisciplinary, summer school, and college credit options. We avail our learners to cutting edge technology: 1:1 iPads, digital microscopes, LCD projectors, Apple TVs, 3D printers and campus-wide high speed wireless networking, for example. Yet none of this makes learning memorable. Repeatedly students say what they treasure most about their four years here are their connections with teachers and the motivation teachers create in them. We support teachers being innovative in their subject matter, striving to improve their knowledge and techniques. We encourage sabbaticals and life-long learning and we take pride in our summer teacher academy, offering a unique and relevant course every summer for teachers to build fellowship, develop learning strategies and inspire best practices in academics. Einstein said, "We must take care not to make the intellect our god; it has, of course, powerful muscles, but no personality."