Servant Leadership
Combine faith, education, and action for global citizenship—shape the world today and for the future.  At Cretin-Derham Hall students not only learn about service and justice, they practice it.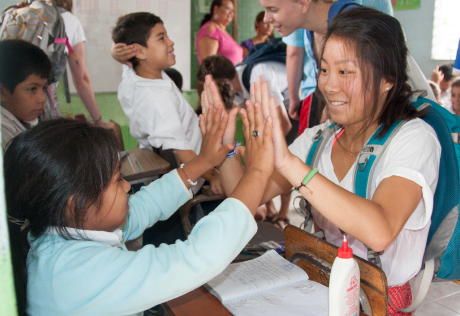 Catholic social teachings come to life when CDH students act locally and globally in service to support human dignity and world peace.
Service: When Faith and Action Converge
Catholic social teachings prioritize human dignity, the needs of the poor, the rights of workers, and the preservation of the environment. So do we. Our justice education and service trips are varied and numerous. For over twenty-five years they have grown and evolved, engaging over 3500 students and sixty-five faculty members—so far. These hands-on experiences change lives. Participants say their awareness of the world expands. They learn about others and about themselves. Cretin-Derham Hall graduate Will Gochberg ('02) describes the impact his justice education experience in Guatemala had on him in a letter he wrote to CDH over ten years after the fact. "The trip was one small push among several that helped me to consider carefully what I think is most important." After CDH, Gochberg majored in political science, volunteered a year in Namibia, and now focuses on environmental politics in developing countries. Traveling to places like El Salvador and Camden, New Jersey, CDH service leaders learn to navigate and respect unfamiliar environments while affirming human dignity. Actively working for social change allows our community meaningful connections with the dear neighbor. We seek to be inspired citizens of the world. We are compelled to bring our Christian beliefs to life.