Shared Connections
Make memories and friendships to last a lifetime. Through events like Mass and prayer services, annual class retreats, all-school celebrations, and our CASA initiative, we enrich community by fostering collaboration, equity, diversity, and lifelong personal connections.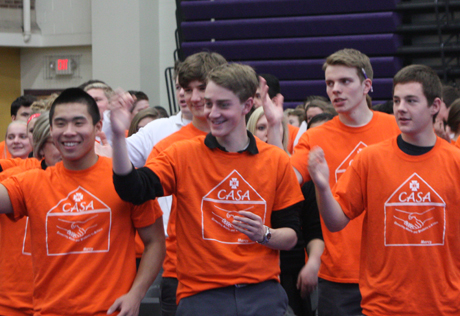 Students mix with staff and students in other grades, some of whom will be friends for life but whom they would likely never have met if not for CASA.
CASA Tuesdays
Tuesdays are not just another day at Cretin-Derham Hall. Every Tuesday throughout the school year, the entire CDH community sets the class work aside to come together in CASA; Connecting Adults and Students to Achieve is our mission.
Students say it's like one big exhale amid many inhales throughout the week. We inhale information, facts, figures, models, novels, and more, but CASA is a conscious group effort to exhale our undertakings, for a time, and connect as individuals.
The CASA families, as one of the CASA founders Assistant Principal Amy Bellus explains, "are a great opportunity for each of us to get to know a whole new group of people and expand our circles." CASA families are a blend of all grades and all CDH staff participate. Families remain the same all four years, graduating seniors and welcoming freshmen every year.
A big part of CASA Tuesdays is talking. In a school of roughly 1300 students, we can feel small and insignificant. CASA gives all of us a chance to be heard and a dynamic support system, which changes but is always connected. Vice President for Mission Lou Anne Tighe sees CASA as essential to our purpose. She looks to the late Jesuit Cardinal Avery Dulles for guidance, "Dulles says being Catholic doesn't mean focusing our attention on a body of doctrine, it means to see and to nurture community, both the explicit and the implicit." Casa means home, and for everyone at CDH, we want our school to be home.