Something for Everyone
Co-curricular, athletic, artistic, and academic opportunities at CDH foster diversity, speaking up, developing passion, and following dreams to discover one's calling.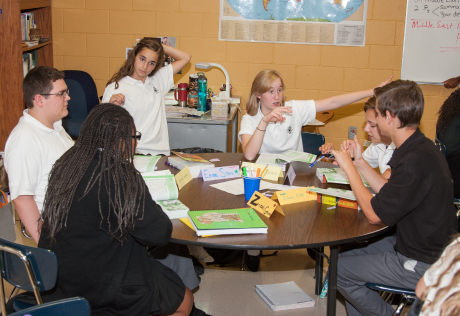 9th graders make memories in our Values Symposium class, which includes bonding, making friends, learning together, and reflecting on who they are and who they want to become. 
Preparing to Launch
When Margaret Sullivan was a 9th grader in her Values Symposium class, near the end of the school year, she was asked to write a "letter to self." She wrote it, sealed it, and handed it in, to be returned to her senior year. When she arrived at "the last supper," the senior class's end of the year formal dinner, she was pleasantly surprised to find her letter. What she read astonished her. Margaret is the proud wearer of two cochlear implants; she is nearly deaf without them. Over the course of her four years at Cretin-Derham Hall, she became adjusted to the implants and her new sense of hearing. This became clear to her when she read her letter. Her ninth grade self wished she weren't hard of hearing and she wrote that if she could fix it, she would. Looking back at that perspective as a senior, she realizes just how much she has grown and learned. "I would never change my hearing now," she reflects. "It has taught me so much. I am able to help others who struggle with hearing loss. I know the power I have, and technology has, to improve people's lives." Stories like Margaret's are familiar at CDH. Going to school here is not only about finding one's self and fitting in, it's also about reaching out, embracing diversity, and endeavoring to do and be more than average. At CDH, we know each student must nurture and develop the self to establish a strong base. From there, it's all about the launch.