Shannon O'Leary '97
Chief Investment Officer, Saint Paul & Minnesota Foundation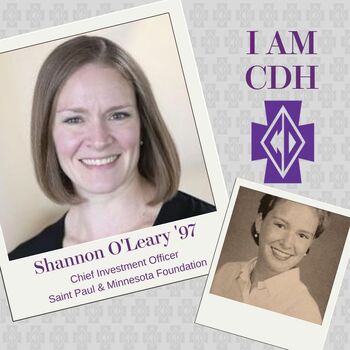 How has your high school experience impacted your life?
My CDH experience didn't just prepare me for college - it gave me a sense of purpose and passion in living the social justice work so central to our faith and community. It provided me with a deep interest in serving others, particularly those within our community who have not had access to the socio-economic benefits many of us are privileged to have as CDH students and alums.
What advice would you give a current CDH student?
Participate in the opportunities CDH offers you to serve in our community, especially the opportunities that scare you in some way or make you uncomfortable. This is a great space to test out your capacity to learn and grow through challenging your biases and perceptions.
What does being a graduate of Cretin-Derham Hall mean to you?
Connection to community, and pride in being a part of a legacy of giving and serving that community.
What is your favorite memory of high school?
Sludge in Mr. Brown's science class, especially the day we learned how to use the Bunsen burners and a few folks singed off their eyebrows.
Why is it important to you to support our school?
Lots of reasons: I'm an alum and a fan, I'm a neighbor, my kids are attendees. The biggest reason I give is that I want to help make sure CDH continues to educate compassionate leaders and community members who are deeply rooted in the social justice mission of the faith and the legacy of the school.