Superfans
Overview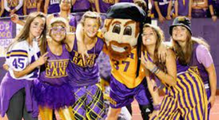 As an individual, your first goal is to positively influence the SuperFans. To be a positive influence you must offer and contribute all of your talents to the team. Some can offer more on the team, than others. None of us can do everything, but we are all valuable to the team. As a SuperFan, you will be held to a higher standard. Your effort, behavior, and dedication can never become an issue if you are going to lead the program. 
We will be looking for the following characteristics from you: 
1. Commitment to the team: If you are going to be part of the SuperFans, your commitment level must be greater than those who will be asked to follow. 
2. Integrity: You must show integrity in themselves, their program, their school and community. Integrity and quality go hand in hand. 
3. Lead with Class: You will be expected to abide by our sportsmanship rules and hold those around you accountable as well. 
Be the Gold Standard! By taking the time to apply, you have taken a step to become a leader. On the back of this sheet you will find a questionnaire. Please take your time, plan out your responses, and return the finished questions to Mr. Kline, in the AD office.
Contact