Justice Education Trips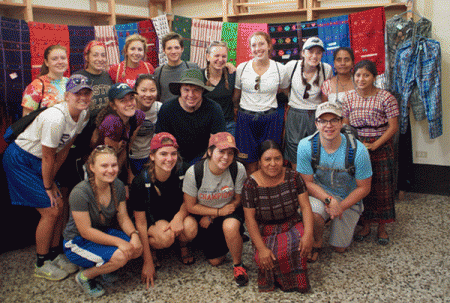 Justice Education Trips immerse students in circumstances and cultures beyond their own experience. Each trip involves thorough preparation and reflection upon not simply the people they will meet but also the social systems that keep people from reaching their fullest potential. Therefore, these trips are appropriately entitled, "Justice Education Trips," not mission trips. For it is hoped that those who experience these trips will continue to reflect and consider ways to alleviate poverty well into their adult lives.
Civil Rights Justice Education Trip
Students travel to Alabama, Georgia and Mississippi and engage in the living history of our country's most powerful civil rights movement. Part of this education includes meeting with and hearing personal accounts of those who lived through and participated in the movement.
Chimbote, Peru Justice Education Trip
Partnering with Friends of Chimbote, this trip includes learning about native Peruvians and their history, working alongside those from Chimbote in the programs of the mission, and a home-stay with families from the Catholic parish. 
El Otro Lado Justice Education Trip
El Otro Lado (the other side) is a program sponsored by San Miguel High School in Tucson, AZ. Students have the opportunity to see, experience, and reflect on the reality of undocumented immigrants in our country. Time is spent at the school, with the border patrol, and in a courtroom hearing immigration cases.
Guatemala Justice Education Trip
Partnering with the mission of San Lucas Toliman, students travel to Lake Atitlan in northwestern Guatemala. Students learn the history of Guatemala, its economic conditions, reforestation projects; they will pick coffee beans and play with the children.
Red Lake Nation Justice Education Trip
Blessed by a long and trusting relationship with members of the Red Lake Nation, students are guided through the history, traditions, spirituality and culture of the Ojibwa people.
Romero House Urban Challenge Camden, New Jersey
Visiting Camden and the Philadelphia area, students experience various agencies that provide services to those in need. Students also visit work sites each day that are organized through Romero House.
School of the Americas Justice Education Trip
Students travel to the Fort Benning Army Base in Columbus, Georgia and pray for peace with people from across the United States. Non-Violence Movements, the Reverend Dr. Martin Luther King, Jr. Museum, the charism of the Jesuits (Society of Jesus) along with great southern food and hospitality are constitutive elements of this educational experience.
Please note: Some financial assistance, based on need and the availability of funds, is available for each of the Justice Education Trips.