Competitive Fishing Team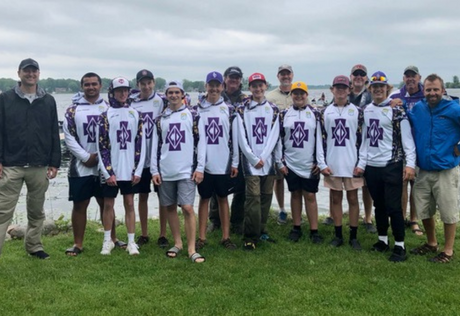 Overview
Welcome to the CDH Bass Fishing Team! Our team competes in three, one-day tournaments over the summer against top competition from across the state. Each team is composed of two anglers with an adult captain (and boat). 
CDH currently participates in the North Metro Conference which includes teams from Forest Lake, Chisago Lakes, Cambridge-Isanti, and Ogilvie. Students – both male and female – of all grades and skill levels are welcome. All you need is a competitive spirit, a love for the outdoors and basic fishing gear including rod, reels and tackle. You also must register with the state B.A.S.S. league (details will be sent to you).
Tim Laughlin, father of Sam '23, Max '24 and Olivia Laughlin '26, is the coach. Fortunately, we also have a number of other amazing people, including former professional anglers, who volunteer to serve as boat captains and speak at team meetings throughout the year. 
We are always looking for additional boats and boat captains to help our team grow and compete. Contact coach Laughlin if interested. Our goal is to compete, but more importantly learn and improve together in a fun, outdoor environment.
Contact