Dismantling Racism Initiative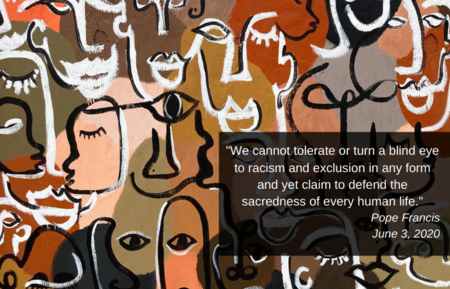 The Initiative
Launched in the 2020-2021 school year, Cretin-Derham Hall has committed to dismantle racism within ourselves and our system. With a 10-year commitment to the critical work for Diversity, Equity and Inclusion (DEI), this first year of the initiative was dedicated to establishing a structure, engaging diverse perspectives, creating a safe environment for difficult conversations, and beginning the foundational work so long term progress is realized.
As President Frank Miley stated at the launch of the community-wide initiative, the progress will take time and will occur over time, but there is a need for immediate action and change where possible. Highlights of these efforts over the School Year 2020/2021 are listed below.
Latest Updates (May 2021)
The development of the comprehensive plan has begun. Several foundational steps are underway. While this is not a complete list, it does highlight several key efforts taken by the school over the past month.
Several Listening Sessions for students and faculty/staff have been offered over the past several weeks. We want to provide an opportunity for everyone to share their views, so additional sessions have been scheduled. 

CDH will be hiring a DEI Coordinator/Student Advocate. This job will be posted within a few weeks.

The faculty and staff will engage in DEI/Cultural Competency Training as the primary Professional Development focus for 2021/2022.

The Black Excellence Alumni Network was formed early in 2021 to strengthen connections among Black alumni and support Black students in striving for academic excellence and career exploration.


The AFAM student group provides a space for Black students to connect. Its purpose 

is to assist students to become leaders for themselves, their families, their communities and their school. The student-led group's mission is to analyze and resolve the stereotypes and barriers between themselves and others and to build community between one another as well as with other cultures and individuals.

 



To find out how you can be more involved, please click here.


Timeline of Action