Meet the Counseling Department 
Fax Number: (651) 696-3366
Students are assigned a counselor according to last name.
If you would like to schedule an appointment with your school counselor, please click on the appropriate link below. Links can also be found on each school counselor's Google Classroom as well as on the school website under the counseling department's contact information. 
Counseling Assistant
Mrs. Mansur is our counseling office assistant. She started this position in 2022.
Mrs. Mansur is a St. Paul native. She went to high school at Archbishop Brady High School in West St. Paul.
Mrs. Mansur loves spending time with family, watching old movies, baking, crocheting and spending time outside.
Email: pmansur@c-dh.org
Counselors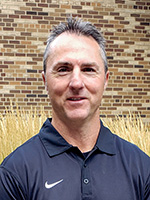 Mr. Brewer is a school counselor and has been at CDH since 1997.
Mr. Brewer grew up all over the country - he lived in eight different states before he turned 18! After high school, he started college at the University of North Dakota, and then transferred and graduated with his bachelor's degree from UW La Crosse. He then earned his master's degree at UW Stout. Now, he lives in a house he built with his own two hands with his wife, five kids, and Miley the Mastiff.
Mr. Brewer loves hunting, coaching football, movie trivia, and 80's music. Try to catch him on 80's Friday, when he plays the 80's classics in his office.
Email: mbrewer@c-dh.org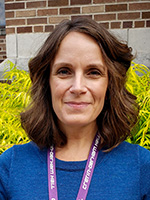 Mrs. Young has been a school counselor at CDH since 2017, and was a counselor at other schools for 14 years prior to joining CDH. She works Monday, Tuesday, Thursday, and Friday.
Mrs. Young started her college career at UW La Crosse, transferred after freshman year, and graduated with her bachelor's degree from the University of Minnesota. Studying abroad in Ecuador was a transformative experience. She earned her master's at the University of Minnesota as well, after living in New York for a year. She worked at Memorial Sloan Kettering, the Covenant House, nannying, waitressing, and lifeguarding all in the same year; New York is an expensive place to live! She now has a husband, three kids, and a shih tzu named Blanca.
Mrs. Young likes to read, run, bake, and spend time in nature. She believes that time and nature are two great healers.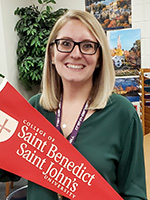 Ms. Shead is a school counselor who has been at CDH since 2016.
Ms. Shead loves to spend her time with her three kids and her 13-lb Chiweenie named Beast. She is a huge fan of football and snowmobiling and spending time at the family cabin. She grew up in Lakeville, went to the College of St. Benedict to earn her undergraduate degree, and then received her master's at the University of New Mexico. 
Email: kshead@c-dh.org
College Counselors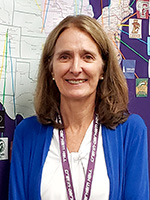 Ms. O'Connell is one of our college counselors. She started at CDH in 1997.
Ms. O'Connell grew up in New York. She first came to Minnesota when she started school at Carleton College to earn her bachelor's degree. She then attended the University of New Hampshire to earn her master's in counseling. Before working here, she worked at Middlebury College in Vermont and St. Kate's here in St. Paul. She is one of five Certified Educational Planners in Minnesota and visits around 15 colleges around the country per year.
In her free time, Ms. O'Connell likes to spend time with her two daughters and her 13-year-old lhasa poo named Cleo. She also loves to knit, read, and visit family in New Hampshire. 
Email: joconnell@c-dh.org
Chemical Health Counselor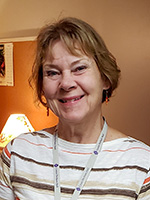 Ms. Knopik works on Tuesdays and Fridays from 9 am to 1 pm.
Mrs. Knopik is our chemical health counselor and started at CDH in 2016. A graduate of St. Mary's University, she has worked as an alcohol and drug counselor, a program developer and facilitator for individuals, families, and groups. Served as the liaison between the MN Department of Health and the South St. Paul Healthy Youth Community Coalition; supervising all areas of a federal grant. Developed community contacts with all key constituencies in the SSP community, facilitated prevention campaign for youth ATOD and at-risk social behavior, as well as organized alcohol prevention in the classroom.


Mrs. Knopik provides substance use assessments for adolescents, develops an action plan and makes recommendations for appropriate referrals. She leads effective, results-orientated individual and family counseling.
Mrs. Knopik is an avid gardener, loves hiking and spending time outdoors.
Email: gknopik@c-dh.org
Registrar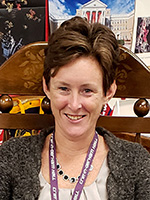 Ms. Carroll is our registrar. She has been at CDH since 2009, and registrar since 2017. 
Ms. Carroll grew up in St. Paul and graduated from CDH in 2000. After high school, she went to the University of Minnesota to earn her bachelor's degree, and the University of St. Thomas for her master's. Now, she is married and has a son.
She enjoys going to the gym and running. She also loves to travel and studied abroad in China while in college. 
Email: kcarroll@c-dh.org