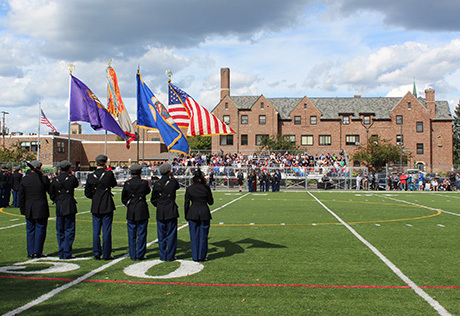 JROTC at CDH
The mission of JROTC is "to motivate young people to become better citizens."  This is accomplished through an organized progression of learning focused on citizenship, leadership, personal responsibility, self-discipline, and service to the school and community. 
The purpose of JROTC is to:
Prepare high school students for responsible leadership roles in their community.
Teach active citizenship by making them aware of their rights and duties as Americans.
Enhance patriotism and encourage students to serve their country and community as informed citizens and leaders.
There is absolutely no military obligation associated with JROTC, but those interested in military service will benefit from participation in JROTC.

JROTC In The Classroom

JROTC is a four-year coeducational program that is offered as an elective course each trimester. The JROTC curriculum is nationally accredited and designed to develop students in the areas of leadership, personal responsibility, citizenship, and service. The instructors combine theory and practice to enhance the students' experience. The coursework progresses through grades 9-12 so that students have the opportunity to model, lead, and teach their peers. The several sections of the class meet every other day, pairing with Physical Education in 9th grade and study hall in grades 10-12. Four years of JROTC will fulfill all health and physical education requirements. Open to every student at CDH, girls and boys share the top leadership positions each year.
To find out more about our course options and class details, download the JROTC curriculum. 
The CDH Advantage!
The Junior Reserve Officers' Corps (JROTC) is a very important and unique part of Cretin-Derham Hall. The program had its beginnings in 1917 when Brother Justinus Elzear added JROTC to the school's curriculum. The tradition of leadership that began over a century ago continues today. We have enjoyed an unbroken record of JROTC's highest award, Honor Unit with Distinction, since its inception in 1929-30. Our graduates are proven leaders in business, government, the church, and the military.
The purpose of JROTC is leadership development. The military model used in JROTC (drill and ceremonies, promotion system, awards program, organizational structure, and uniform) provides an effective framework for the study, application and evaluation of leadership.  Students study theory in the classroom and apply this knowledge in a leadership laboratory each week. Not every student aspires to lead others; however, every student can benefit from JROTC by learning to lead themselves.
To teach attention to detail and focus, the JROTC uniform is worn instead of the school uniform one day per week for leadership lab. At the beginning of each school year students are issued a complete uniform at no cost (coat, trousers/slacks, shirt/blouse, shoes, socks, belt, uniform accessories, and hat). Students who prefer the JROTC uniform to the school uniform may receive an additional uniform for free enabling them to wear the JROTC uniform up to five days each week.
As a member of JROTC, you join a program with an established, national reputation for excellence. It is the largest service organization at Cretin-Derham Hall, typically performing over 4,000 service hours for the school and greater community each year. The CDH JROTC program hosts the largest comprehensive, joint service (Army, Navy, Air Force, and Marine) competition in the Upper Midwest known as the Upper Midwest JROTC Challenge.
Other activities sponsored by the JROTC include:
Air Rifle Team
Precision Drill
Color Guard
Regulation Drill
Honor Guard
Orienteering
Flight Club
Camp Ripley Adventure Trip
Dining-In and Military Ball
Fall Review and Twilight Parade
Camp Wilderness JROTC Cadet Leadership Challenge
Official visitors routinely remark that the CDH JROTC program is the most active they have ever seen. Students are encouraged to customize their JROTC experience at CDH by selecting the activities that satisfy their individual needs and interests. Most activities are optional.
For additional information about the JROTC program you are invited to visit our office at Cretin-Derham Hall, call 651-696-3350, or contact one of our faculty in the staff directory.