Alumni Board
The Cretin-Derham Hall Alumni Board is an organization whose mission is to foster spirit and a lifelong relationship between alumni and the school. The board strives to promote the goals of the school and to encourage programs of interaction between students, alumni, faculty, and staff.
Board Members
The Cretin-Derham Hall Alumni Board is a group of active alums. Representatives from each of our schools, Cretin, Derham Hall, and Cretin-Derham Hall make up the board. The board meets bi-monthly throughout the year.

Board members are  encouraged to attend CDH events and all board meetings.
Board members are ambassadors for our school.
They represent our core values at Cretin-Derham Hall.
The President serves a two-year term
President - Brian Nalipinski '96
Vice Chair - Lindsay Miesbauer Wilhelmy '99
Secretary - Scott Anderson '84

Past President - Megan Fee Smith '00
Board Members
Tom Troskey '63, Barb Wylie Thompson '61, Brian Nalipinski '96, Lindsay Miesbauer Wilhelmy '99, Laure Waschbusch '84, Peggy Gartland Schafer '79, Scott Anderson '84, Bert Christensen '69, Ron Link '88, Marcus Tibesar '05, Joe Rubbelke '85, Elizabeth Fastner Pershing '99, Jackie Joyce Lutmer '80.
Position Summary
The CDH Alumni Board is creating pathways for dynamic engagement opportunities that connect alumni to one another and to Cretin-Derham Hall.
As a member of the CDH Alumni Board, you:
1. Must make a contribution to Annual Giving at Cretin-Derham Hall.
2. Help activate and engage alumni by planning and executing networking, fundraising, social, and volunteer events.
3. Attend bi-monthly meetings on campus. Time spent outside of meetings will consist of serving on an event.
4. Attend and promote our events at Cretin-Derham Hall. Including A Taste of CDH, Community Awards, Alumni Leaders in the Classroom, Gala, Athletic Hall of Fame.
Qualifications:
Positive attitude: must be willing to respectfully discuss ideas and opinions.
Collaborative spirit: must work with CDH staff and alumni of all backgrounds toward common goals.
Leadership: must be willing to work in smaller groups or as individuals to lead various projects & initiatives.
CDH Values: must comply with all program policies and procedures of CDH and the mission of the school. Cretin-Derham Hall is a Catholic, co-educational high school co-sponsored by the Brothers of the Christian Schools and the Sisters of St. Joseph of Carondelet, committed to Christian values and academic excellence in grades nine through twelve. We will educate young men and women of diverse abilities, cultures, and socioeconomic backgrounds for opportunities in post-secondary education.
 Catholic, Academic, Leadership,
Community, Service, Diversity, Equity
Benefits: Develop leadership experiences and skills. Enjoy networking opportunities with Cretin, Derham Hall and Cretin-Derham Hall alumni of all ages. Remain engaged with CDH and its surrounding communities.
Meet our Alumni Board

Brian Nalipinski '96

Board President
I am forever grateful to CDH for the education and values they instilled in me. My four years at CDH were full of memories and experiences that I will always cherish. Mr. Horyza, to this day, is someone I consider to be one of the most influential teachers and mentors I have been blessed to be around. He pushed me to believe in myself.
Lindsay Miesbauer Wilhelmy '99

Board Vice President

I have a deep appreciation for the education I received at CDH, my experience playing softball, and the friendships I formed along the way. I valued the variety of activities available to me, the academic support that prepared me for college, and the close-knit community. Working with the Alumni Association allows me to continue to be part of the CDH Community and give back to this family that gave so much to me.
Scott Anderson '84
Board Secretary

I've always valued the academic, religious, and social education I received at Cretin. It's been a goal of mine to one day help give back to the school. As a parent of two CDH graduates I see the true value of the education that CDH continues to provide. Working with the Alumni Association allows me to still feel part of the CDH community.


Peggy Gartland Schafer '79
Board Member

I very much enjoy working at Cretin-Derham Hall. It is a wonderful school and a great place to work. I enjoy the energy that being in a vibrant school brings and I enjoy meeting all of the alums that I encounter every day.
Tom Troskey '63
Board Member

I have been very fortunate to be connected for many years with CDH. Beginning as a student, then as an alumni association member, and then as a parent of CDH students.
Laure Waschbusch, MD, FACOG '84

Board Member


My undergrad degree was in electrical engineering from North Dakota State University. Then it was on to medical school at the University of Minnesota. Finally, I completed my OB-Gyn residency at the University of Wisconsin – Madison.
Directly out of residency, I joined Partners OB-Gyn and have spent my entire career with our group.

I have spent many years working in collaboration with the HealthEast care system.
I am finishing up my seventh year as President of the HealthEast medical staff and I also sit on the HealthEast board of directors.
Barb Wylie Thompson '61
Board Member

I grew up in St. Mark's parish in St. Paul, and went to Derham Hall High School when it was located on the campus of St. Catherine University. We had 46 students in our class, and I still see many of the friends that I made there.
I graduated from St. Catherine University, and taught Health and Phy. Ed. at Burnsville High school. I later worked and taught for 20 years at St. Catherine University in the Teacher Education Program.  I am dedicated to the mission of Cretin-Derham Hall, and to the tradition of providing  all students with an excellent education.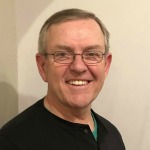 Bert Christensen '69
Board Member
CDH is leading the way in the all-around education that leads to adults who are able to discern and think for themselves. The future of the USA is best handled by those that have a strong code of ethics and a sense of right vs. wrong, which is instilled by CDH.
Ron Link '88

Board Member
The impact my teachers, coaches, and classmates had on me truly helped me develop into the person I am today. They helped me develop the work ethic and confidence in myself to succeed when I left CDH. It is so important to make the opportunity to attend Cretin-Derham Hall available to everyone. More than ever we need great schools that will develop our future leaders.

Marcus Tibesar '05

Board Member
The teachers, coaches, and friends that I made at CDH have helped shape my outlook on life, my faith, and the way I treat others; for that I am forever grateful. A good Catholic education is a foundation of the community and should be accessible for everyone. I believe that I have a responsibility to ensure others have that same opportunity.


Joe Rubbelke '85
Board Member
Classmates, teammates, friends and faculty impressed upon all of us the need to work hard, play hard and be proud of this lineage that I'm even more thankful for today. We all support the growth and prosperity of one another. While it's typical for a student's true appreciation for their alma-matter to become a reality well after graduation, there's likely no greater example of this appreciation than ensuring that our own children are afforded the same opportunity.
Elizabeth Fastner Pershing '99
Board Member

CDH provided me with teachers who helped me find my interests and build my confidence as a young woman. It helped me choose social work as a career path when I went to college. CDH taught me not just core subjects but also the importance of service.
Jackie Joyce Lutmer '80
Board Member
Derham Hall gave me a strong sense of confidence in myself and my abilities to go out and make a difference. It's so wonderful to be a part of this amazing community of alumni. I know that no matter where I go or what I do I have the support of the people who graduated before me as well as the ones who graduated after me.
Megan Fee Smith '00

Past President

Reach Out and Stay Connected
We are always looking for alums who share the same common interest – Cretin-Derham Hall!

Questions?
Please contact Michlyn Vogel Walsh '92, CDH Advancement Associate and Alumni Relations, or call 651-696-3335.