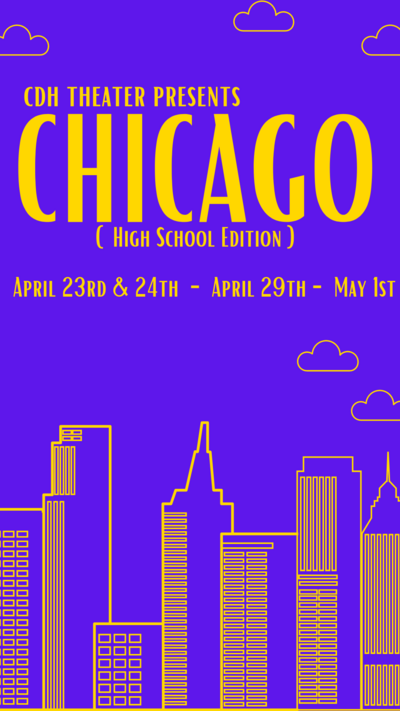 Note from the Director
Hi all and welcome to the cast of Chicago! 
I was so thrilled to be at auditions and to see all the amazing talent on offer in your school, thank you for giving everything a go and allowing me to be a part of this process. I know it can be intimidating when you're auditioning for someone new.
I wanted to take a second to give you a little information about me and the type of theatre that I create. I usually work as both the director and costume designer on my own productions, currently I am also working as the costume designer at Burnsville High school whilst also pursuing my own work. I have worked with a lot of classical texts and it's my strong belief that if we as theatre makers are going to spend our time and effort creating and living within a production that already exists in the world, that we should always be showing the audiences something different, we should offer the audience a new way to look at this work that challenges their preconceived notions about the production. So be prepared to offer, to try new things and to forget about any production of the show you have seen in the past. We are creating our own piece of art to share with the wider community.
I believe that every single person in the cast is as important as the other. I have no patience for any kind of hierarchy within a production. We are all here to create and every person on stage as is important as the other. I expect those with named characters to work hard, to know their lines in a timely manner, and ask for help when they need it, I expect the ensemble to be focused when they are in the room and to commit to character choices and actively create work in the room. I always worry when posting a cast list that people only value the roles with more songs or lines. In my rehearsal room, we are creating and working together, so while some people may have more to remember on stage, we need to work together to create this hectic, over-the-top, crazy world of Chicago.
We will make time during our first rehearsal to discuss how we are going to approach this production and what kind of rehearsal room we want to spend our afternoons in. 
You are welcome to look at my website to see the kind of work that I have done in the past.  
http://www.penelope-parsonslord.com/
I'm very excited to get into this production and work with all of you along with the amazingly talented Chris, Jason and Jacob.
Cast List
Roxie Hart: Anna Ek, understudy Karlie Reynolds
Velma Kelly: Addison Keske, understudy Kat Fritz
Amos Hart: Danny Weber, understudy Joe Peterson
Billy Flynn: Billy Canter, understudy Andrew Ek
Matron Mama Morton: Tavary Un, understudy Luna Tekie
Annie "6": Kat Fritz
Liz "Pop": Samantha Pizinger (D.C.)
Mona "Lipschitz": Karlie Reynolds
June "Squish": Luna Tekie
Hunkay (Katalin Helinszki) "Uh-Uh": Alexandra Prodoehl (D.C.)
Fred Casely: Andrew Lennox
Harrison: Jacob Reid
Judge: Annabel Fulton
Sergeant Fogarty: Cypher Mezzitello
Ensemble 1, 4, and 12: Andrew Ek
Ensemble 2 and 3: Stella Hrabe
Ensemble 10: Lidya Berhane
Ensemble 11: Norah Barret
Clerk: Ian Johnson
Reporter: Dom Anderson
Kitty: Molly Stanley
Harry: Joe Peterson
Ensemble with emphasis on dance:
Alexandra Prodoehl – Dance Captain
Samantha Pizinger – Dance Captain
Danny Weber
Karlie Reynolds
Andrew Ek
Kat Fritz
Luna Tekie
Molly Stanley
Sarah Craighead
Lydia Berhane
Bridget Commers
Tavary Un
Ensemble: 
Norah Barret
Andrew Lennox
Julianna Klein
Jack Mountain
Dominic Anderson
Cypher Mezzitello
Jacob Reid
Sky McLeod
Sara Brost
Annabel Fulton
Ian Johnson
Stella Hrabe
Natasha Krieger
Luna McLeod
Joe Peterson
Canaan Balema
Mallory Larson
Crew Heads
Assistant Director: Emma Coty
Stage Manager: Julia McSherry
Props: Alice Guion
Lighting: Evenson, Abby Glode
Sound: B. Kelly, Charlie Geiger
Hair and Makeup: Sophie Moller, Sophie Nemo, and Sophie Huot
Costumes: Open Until Filled
Publicity: Open Until Filled
House Management: Open Until Filled
Archives: Open Until Filled