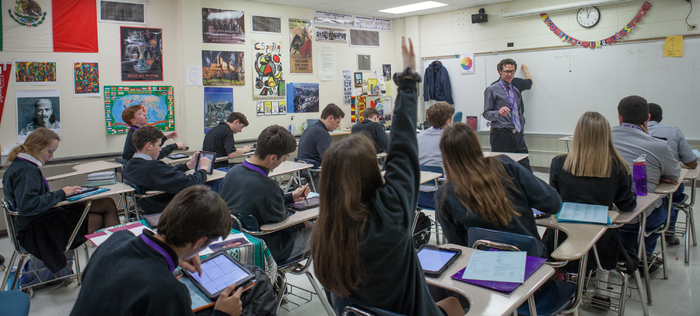 Academic Departments
Students at CDH are exposed to a broad spectrum of courses to help them become critical thinkers, collaborative learners, and well prepared for college and life. 
At Cretin-Derham Hall, we are proud to offer a rigorous academic experience in every department.
Our students are well-prepared for college. They have the opportunity to take AP courses, which can earn college credit. We also offer college-in-the-high-school classes, where students can take courses through the University of Minnesota and Saint Mary's University.
Our unique interdisciplinary classes include Values, which is a required course for all 9th graders. The class combines English, Social Studies, and Religion. We also offer Spectrum for 12th graders, an interdisciplinary class with a strong focus on service. Learning Lab provides extra academic support for students who need it. 
Explore all of our departments by clicking on the drop-down menus below!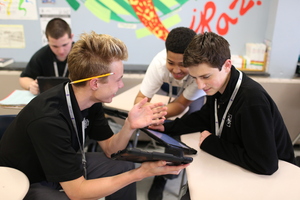 The Business Department provides an environment that enables students to achieve their intellectual potential, to further their business education, and to develop the basic skills and qualities of leadership needed in their personal and business activities. The department also provides a setting for developing Christian values by developing an ethical business viewpoint.
The CDH Advantage
In our Business Mentor Program, CDH students are paired up with a mentor from a local company who will discuss career and professional business topics.

DECA is a competitive co-curricular program that prepares emerging leaders and entrepreneurs for careers in marketing, finance, hospitality, and management.

Courses provide unique opportunities to discuss ethical decision-making as it applies to everyday dilemmas in business and finance.
Computer Science gives students vital 21st-century skills. Computer Science is more than just using technology - it teaches students design, logical reasoning, and problem-solving skills, preparing students to innovate and create the new technologies that drive our world.
The CDH Advantage
Offerings include both programming-oriented and application-oriented courses to meet a variety of student interests and skill levels.

State of the art technology: 

C.A.D., Science and Engineering, and Robotics students produce and print models using 3D printers.
Physics and Science and Engineering students use Arduino circuit boards to explore electronics and programming.
Programming students use Python, JAVA, C#, and Swift to learn about object-oriented programming and how to manipulate objects through coding.
Animation students use Blender, GarageBand, and other applications to bring characters to life.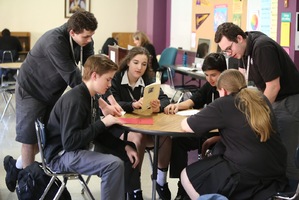 Engage all learners, no matter their skill set, interest, or learning strategies to understand Literature, foster a personal practice of reading, and develop competency in academic writing. 
Students will use these skills across multiple disciplines, with the expectation that students will be college-ready communicators.
Our students are prepared for college - PSAT and ACT scores significantly exceed
state and national averages.

Students can earn college credit at the University of Minnesota and Saint Mary's University of MN, taking college courses in their CDH classroom. We also offer AP English Composition.

Reading lists are diverse, relevant, and current. Discussions, projects, and writing assignments reflect the world that our students are growing up in.

visit English Department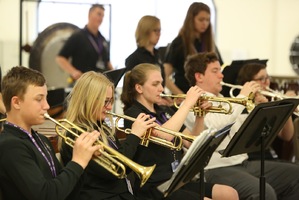 Because fine arts stimulates and satisfies the human need to participate in the creative process, the fine arts nurture the students' senses, emotion, and intellect to build a foundation for life-long enrichment and growth.
The CDH Advantage
Theater department regularly wins Triple Threat and Spotlight awards.

Award-winning studio arts program, with 16 courses available at multiple levels.

Multiple bands and choirs allow wide range of participation.

Beautiful facilities for all arts disciplines.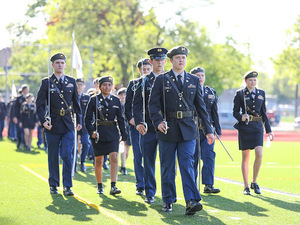 Develop leaders and citizens, provide significant service to our school and the CDH community through a nationally accredited, co-ed program that improves self-discipline and builds leadership.
The CDH Advantage
Established in 1917, and recipient of JROTC's highest honor for more than 90 consecutive years.

Largest service organization on campus, with many leadership opportunities. 

No military service obligation, and CDH scholarships available.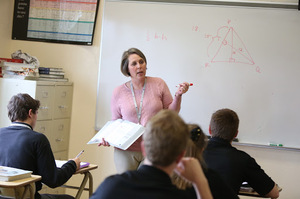 Develop thinking and organizing skills, understand logic, and create valid inferences. 
Through cooperative learning, students work together in this essential and beautiful application across many disciplines.
The CDH Advantage
Math Lab Help available during all periods and after school.

98% pass rate on AP Calculus test.

Integrated with other departments through STEM curriculum.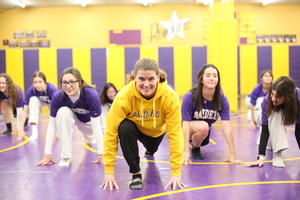 In each Cretin-Derham Hall Physical Education and Health class, the goal is to help students improve their cardiovascular fitness, develop a positive self-image, increase knowledge to build a healthier lifestyle, and teach valuable lifetime activities.
The CDH Advantage
Wide range of courses allows students to find exercise they enjoy and can continue long after high school. 

Independent Study gives students the opportunity to develop their own fitness plan, if a P.E. class does not fit in their schedule.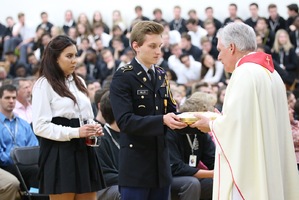 We welcome students where they are, affirm their dignity, while supporting their growth and development of spiritual practices that will waken and sustain them.
The CDH Advantage
Sponsored by the Sisters of St. Joseph and the Christian Brothers

Four years of Religion courses teach students about Catholicism as well as other world religions.

Seniors put their faith in action through weekly service in the community.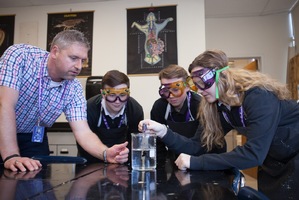 We provide an innovative, technological, and progressive science curriculum at all levels and interests to meet 21st-century challenges.
The CDH Advantage
Foundational Science and Engineering STEM course for all 9th graders, continuing into Biology, Chemistry, and Physics.

State of the art technology and experiential learning, allowing students to replicate real-world problems and learn by doing.

With planning, students can take two science courses concurrently.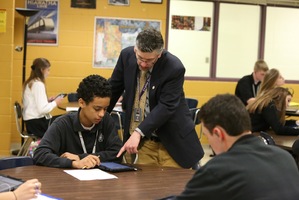 We prepare students to be responsible and effective citizens who can play a dynamic role in our ever-changing and interdependent world through disciplinary knowledge and skills,       respect for multiple perspectives, and a sense of a just and humane society reflective of our values.
The CDH Advantage
Weekly Senior Service integrated into curriculum. We are committed to educating civic minded students who can pair their faith with action.

Local and international Justice Education Trips

AP courses available in Economics, US History, US Government, Psychology, Human Geography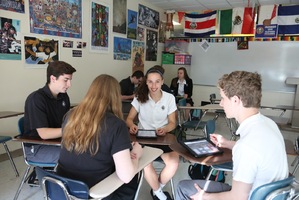 Recognize that we are citizens of a global society, we learn to communicate in another language, and appreciate the culture as we grow in our understanding of the world.
The CDH Advantage
Multiple levels of each of three languages: French, Mandarin Chinese, Spanish

Travel opportunities to support language fluency and cultural exploration

College credit opportunities available