Retreats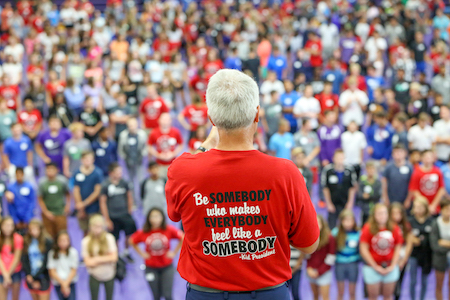 Attending an annual class retreat supports each student's relationship with God and one another. On retreat students have the opportunity to encounter the love of God through prayer, faith sharing, relationship building, and fun activities.
If you need additional information, contact Lou Anne Tighe or Peter Gleich. 
Ninth Grade Retreat
Students entering the ninth grade at Cretin-Derham Hall come from many different schools in the metro area. Drawing from the students' energy and enthusiasm, the annual Ninth Grade Retreat seeks to build a community of faith that offers respect for one another. 
Sophomore Class Retreat
Designed for students to experience a retreat in a smaller group context, the Sophomore Class Retreat involves students choosing a retreat that interests them. Held at different locations on the same day, some of the retreat options have included:  Eucharist: God's Love in the Food, Reflective Writing, the Spirituality of J.R.R. Tolkien, Leap for Children, Habitat for Humanity, Nature Retreat, N.E.T. Retreat, Diversity Retreat at De LaSalle High School, Lion King Retreat, and a Photography Retreat.
Junior Class Retreat
The Junior Class Retreat reflects the need for young women and young men to develop a sense of identity within the context of their Catholic faith (or other faith tradition). Asking the deeper questions, "Who Am I?" and "What Does It Mean to Be a Young Woman or Young Man of Faith?" students participate in a same-gender setting which is primarily facilitated by Cretin-Derham Hall faculty and staff mentors.
Senior Class Retreats
Designed and facilitated by the twelfth-grade religion teachers, students attend their retreat with their religion class. Unlike the other class retreats, the Twelfth Grade Retreat includes an overnight at a local retreat center. During the retreat, students can deepen their relationship with God within the relationships they have with one another during prayer, common meals, recreation, and faith sharing.