AFAM
Overview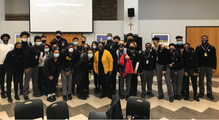 The purpose of AFAM is to assist CDH students to become leaders for themselves, their families, their communities and school.  The organization is catered to students that identify as Black (African-American or descendants of Africa) as well as first generation students.  It will give students an opportunity to gather and decompress their day with students who look like them and may share similar experiences.  
AFAM is a safe place for its members to express, debate and celebrate Black culture, history, and current events.  The group will consist of activities that will foster academic excellence, pride, emotional maturity, communal responsibility, and college and career exploration.  The activities will consist of open forums, college events/visits, community service and creative expressions. AFAM will also give former CDH alumni an opportunity to enlighten and mentor current CDH students.
Membership is open to any student that would like to participate.  Members are required to accept core values of: Unity, Respect, Compassion and Pride.
Awards are given each semester for participation and academic achievement as AFAM members.  Seniors who participate in AFAM receive stoles during graduation. In order to receive a stole Senior members should attend meetings regularly. 
"I am because WE all are" - UBUNTU (Is a South African term which means a quality that includes the essential human virtues; compassion and humanity). 
AFAM meets once a week and is led by Crystal Flint, Student Advocate at CDH.
Contact