Lisa Johnson '02
Vice President, Bernstein Private Wealth Management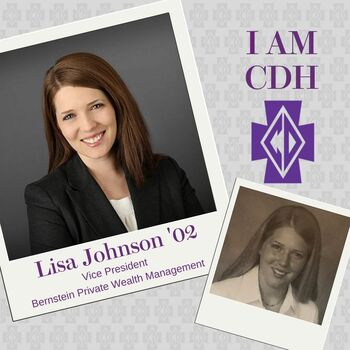 How has your high school experience impacted your life?
I believe CDH gave me a well-rounded education and strong roots from which to keep growing in college, my career, and in life. Leaving CDH, I felt well prepared academically for college, though I believe the real impact on my life has been from some of the non-academic skills and life lessons my time at CDH helped to foster.
I had opportunities to practice leadership skills, be part of a team, develop my personal values, explore the wider world through service learning or language-based immersion trips, and was encouraged to think critically about the world around me and my place in it. I believe CDH taught me not just what to learn, but how to be a life-long learner which will forever pay dividends. I also was lucky enough to walk away from CDH with friendships that are still going strong despite passing years and living in different time zones.
What advice would you give a current CDH student?
Get involved in the things that interest you, and maybe one or two of the things you've never thought about. Trying new things, taking risks, and (sometimes) failing is all part of a life well-lived and you have a safe place to learn and grow. Use it!
Also, be kind. You may not know until your 10-year reunion (or ever) how something you apparently did and didn't think twice about in high-school had a positive impact on someone else. It's humbling to learn that later, and a good reminder that how we show up and treat people even in the smallest of ways, matters.
What does being a graduate of Cretin-Derham Hall mean to you?
I feel permanently part of the CDH community as an alumnus.
What is your favorite memory of high school?
This is hard; I have a lot. Playing in the girls' High School State Tennis Tournament in '01 is up there on the list!
Why is it important to you to support our school?
I'm grateful for my parents' decision to send me and my three siblings to CDH and their years of investment in our education. Giving back is my small way of saying "thank you" to them as well as supporting the CDH community for the next generation.