International Students at CDH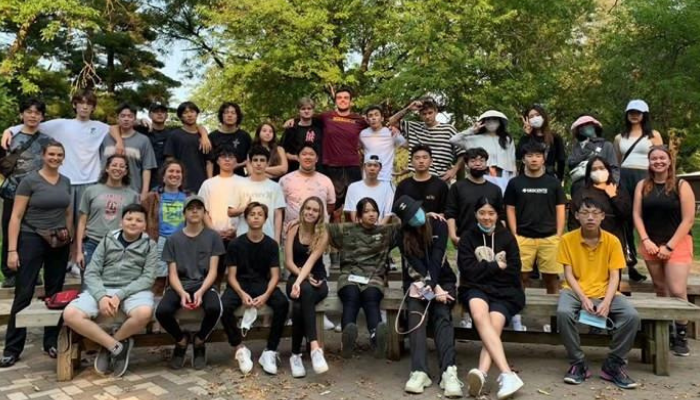 At Cretin-Derham Hall, we partner with Amerigo Education for our international student boarding experience. Amerigo believes that success in a premier American high school requires a holistic experience and a supportive environment to help international students achieve their potential, succeed in the classroom, strengthen their English language skills, adapt to American culture, and advance to a selective American university. The goal is to ensure each student finds the unique support they need to create their brightest possible future.
At Amerigo, students will:
Study at a Premier American School
Delivering ongoing support to help students achieve their full potential and enter selective U.S. University is Amerigo's primary focus. Amerigo partners with preparatory schools, like Cretin-Derham Hall, who share their commitment to superior education and individual mentorship. By using an integrated approach to technology, tutoring that previews lessons with students in advance of the classroom, comprehensive test preparation and top university connections, we offer students the keys to an elite education.
Be Part of a Community
The Amerigo residential program provides international students with a supportive and exciting environment to call home throughout their time in the U.S. Living alongside American teens and fellow international high schoolers, they build lasting friendships and enjoy new experiences every day—all under the protective care of a team of Dorm Parents, an ELL Instructor, and a Director of Campus Operations.
Advance to University with Amerigo
Each student's journey to a top American university requires a unique approach. Amerigo focuses on each student's goals to help them achieve the future they envision. We shape our program around the individual students we serve—from course planning, to mentorship and career discovery, and university advising. Ensuring collegiate success is our mission, and we partner with select colleges and universities within the Amerigo University Network to provide all students with a direct path to university enrollment.
Tuition and Fees
Amerigo Tuition, Room & Board: $64,650. This includes: High School Tuition, English Language Instruction, Amerigo Residential Program, Academic Support, University Guidance, Dormitory Accommodation & Security, Meals (3x per day), Academic Field Trips, Graduation Fee, Sponsored Weekend Activities.

Student Fee: $6,200. This includes: Health Insurance, Thanksgiving Break Activities, Spring Break Activities, School Uniform, Textbooks, Airport Transportation (beginning and end of the academic year).
Contact Amerigo for
Additional Information and Questions
For more information about the Amerigo Twin Cities program, tuition, and boarding options, please visit the Amerigo website or contact the Amerigo Admissions Office.