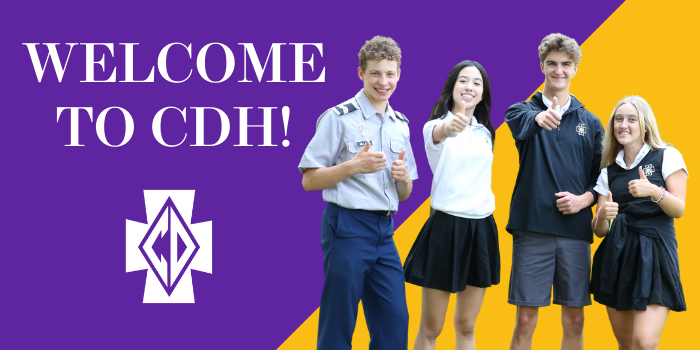 We are so excited to have you joining the Class of 2026! You've landed in the right place to find all the information you need for a successful start to your CDH experience.
For students who have been accepted into the Class of 2026 and missed our registration dates of March 3 and March 24 please contact our admissions team at scullen@c-dh.org or call our office at 651-696-3301 to schedule your individual registration appointment. 

In mid-February students were mailed placement test results, merit scholarship notifications, and recommended class placement for Science and Math if a CDH application was received by the first deadline of January 8th.  If your application was submitted by our second deadline of January 29th, you should have received your mailing with the items above at the end of February.
We are still accepting applications for the Class of 2026 and they will be reviewed as soon as they are submitted .  Our admissions office will communicate via mail your acceptance and next steps.
Registration Steps for Incoming 9th Graders that have been accepted for the Class of 2026
Please follow the steps below to register as part of the CDH Class of 2026:
1. Registration Time
You must contact our CDH Admissions Office to schedule your registration appointment.  Please email scullen@c-dh.org or call 651-696-3301.
2. Continuous Enrollment Contract
Prior to registration, parents must complete the Continuous Enrollment Contract and submit the $300 registration fee. The Continuous Enrollment Contract will be accessed online and be made available to you in an email from the CDH Admissions Office once we schedule your registration appointment.
3. Consider Registering for Summer Courses ( Please note:  As of 4/29/22 the summer Human Geography Class is full).  Summer Health is still available.
If you plan to enroll for a summer course, Health or Human Geography, please access those forms below by clicking on the form, print the registration form, complete the information, and bring the document with you to registration.  If you register for summer school you will be invoiced the $200 fee after registration.  Please note, priority enrollment in the summer Human Geography course will be awarded to students who have a full class schedule during the regular school year.
4. Practice for Registration
At your registration you will be completing the 9th Grade Registration Form with an admissions team member, a Practice Form can be accessed below. Prior to registration please review the Grade 9 Course Offerings below.
5. Submit Registration Fee
We will not be collecting the registration fee or summer course fee when you register. The Continuous Enrollment Contract and registration fee should be submitted online prior to your registration appointment. You will be invoiced for any applicable summer course fee after you register. This will all be explained to you at your registration appointment.
We look forward to seeing you and registering you for The Class of 2026!  Please direct all questions to the CDH Admissions Office: admissions@c-dh.org or 651-696-3301.