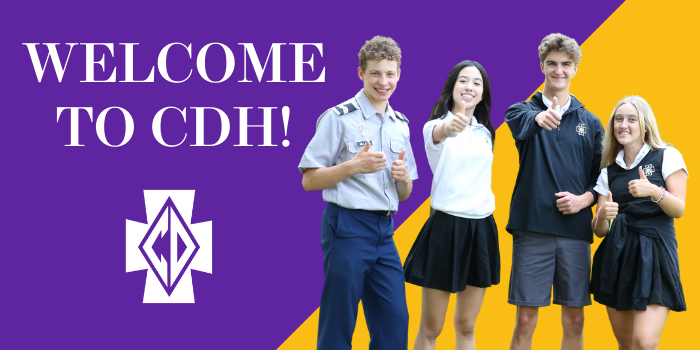 We are so excited to have you join the Class of 2027!  You've landed in the right place to find all the information you need for a successful start to your CDH experience.
If you missed our registration events in March and have received an acceptance letter for the Class of 2027 please contact our admissions office at 651-696-3301or admissions@c-dh.org to set up a registration appointment.  At this appointment we will register you for your 9th grade classes and answer any questions and send you the electronic Continuous Enrollment Contract.  Please see below.


Registration Steps for Incoming 9th Graders (Class of 2027)
Please follow the steps below to register as part of the CDH Class of 2027:
1. Continuous Enrollment Contract
Parents must complete the Continuous Enrollment Contract and submit the $310 registration fee. The Continuous Enrollment Contract will be sent to you via email and is to be completed electronically. 
If you have not received the Continuous Enrollment Contract via email to complete please contact our office at 651-696-3301.

2. Consider Registering for Summer Courses; Two classes offered:  Summer Health and Summer Human Geography
If you plan to enroll for a summer course, Health or Human Geography, you will complete registration during the make up registration event on March 21. At registration you will need to provide a $200 check or cash for each summer course to complete registration. The forms are located below and will also be available at registration. Please note, priority enrollment in the summer Human Geography course will be awarded to students who have a full class schedule during the regular school year.
3. Practice for Registration
At registration you will be completing the 9th Grade Registration Form with a CDH faculty member. A Practice Form can be accessed below. Prior to registration, please review the Grade 9 Course Offerings below.
4. Submit Registration Fee
The Continuous Enrollment Contract and registration fee must be submitted to ensure your spot in the Class of 2027 (Again, you will be emailed the Continuous Enrollment Contract). Any applicable summer course fee will be collected when you come in to register for classes.
Please direct all questions to the CDH Admissions Office: admissions@c-dh.org or 651-696-3301.