Katie Williams Szyman '84
Corporate Vice President, Edwards Lifesciences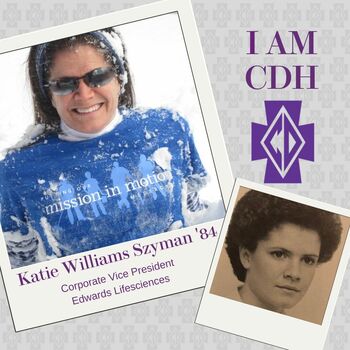 How has your high school experience impacted your life?
I learned to love learning and to love math in high school because I had a crush on my math teacher. This love of math carried me into becoming a certified public accountant, then a finance executive, and then a corporate vice president leading a global medical technology business of almost $1 billion where we improve the lives of almost 20 million patients per year. Learn and enjoy as much as you can now. Your future is up to you!
What advice would you give a current CDH student?
Work hard and don't be afraid to take risks. Try, fail, learn. Have fun!
What does being a graduate of Derham Hall mean to you?
I am proud to have graduated from a Catholic High School where I was able to build a strong foundation for my faith, intellect, and character.
What is your favorite memory of high school?
I was Annie Oakley in the show "Annie Get Your Gun" my senior year. I loved singing "Anything You Can Do I Can Do Better" and I loved being in all the plays and going to dances with my best friends.
Why is it important to you to support our school?
We give to CDH to create scholarship money so more young people who need financial aid - like I did - can benefit from a CDH education.