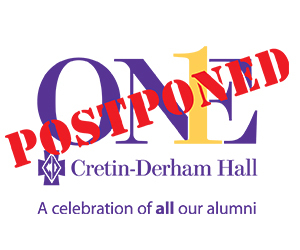 Some things never change -
We are so excited to bring alumni together from all three schools - Cretin, Derham Hall, and CDH - to enjoy the long legacy of spirit and pride that we share in our school.
But some things do -
We have made the difficult decision to postpone the ONE CDH event scheduled for September 16, 2021 based on our unwavering commitment to the health and safety of our community given the uncertainty of the impact of COVID-19 and the Delta variant in the near future.
We will be excited to gather together when it is safer to enjoy a big indoor event, with all of our alumni from all three schools well-represented.  As soon as we set a new date, you will be among the first to know!