Alumni Mentors Connect with Students
February 9, 2022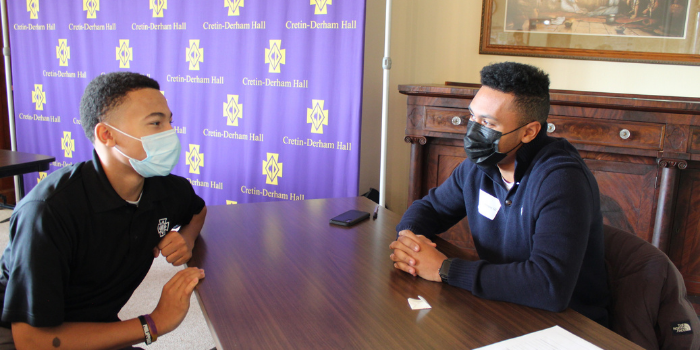 A new mentoring program connects ninth graders with successful alumni of color, to help them navigate their CDH experience. To start, there are eight students and eight mentors participating.
"It's a role model, someone who has been in their shoes," explained Student Mentor Kenneth Udoibok '16, who runs the program. "Often, non-white students have different experiences, so seeing someone of color who had a good experience here and is successful gives them something to aspire to. It helps them feel like they're not in this alone."
The students and mentors met in person in December and again today.  They also communicate weekly via email. Udoibok has provided structured questions for them to discuss, and students are also encouraged to turn to their mentors as an additional trusted adult in their lives. 
"We talk about friendships, we talk about academics, we talk about good CDH values, but we give the mentors the autonomy to talk about what worked in their high school experience," Udoibok explained. "The students and the mentors can discuss their goals and what the mentors wish they had done differently to reach those goals. Their experiences are valuable for the student to hear."
Most of the alumni mentors are graduates from within the last 15 years or so, so they are closer in age to the students than many other adults in their lives may be. Udoibok hopes this makes it easier for them to connect. The alumni mentors have enjoyed the chance to give students advice that they wish they would have had.
"Having someone that looks like you, and that has experience at CDH to lean on, would have been a great asset as a ninth grader," said Shea Walker '10. "Someone to ask for advice and help guide me towards my short- and long-term goals. I didn't flinch once I was presented with the chance to do that for someone else."
The students have enjoyed making new connections and meeting someone who can give them practical advice on reaching their goals.
"I hope to learn everything my mentor knows about CDH and college football," said Jaydn Harris '25.
"I want to know how he got to college-level football, and I hope he can introduce me to some people he knows that helped him make it."
Udoibok hopes to continue to grow the program to allow as many students as possible to benefit from these mentoring relationships, potentially extending it past the ninth-grade year.
Subscribe to our e-Newsletters
You might also like: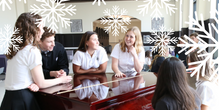 Don't miss these holiday events!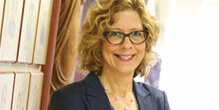 A letter from Principal Mona Passman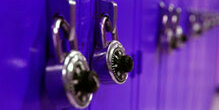 The latest news from Athletics, Counseling, Theater, Choir, Band, and JROTC.