Attend the Athletic Hall of Fame
May 25, 2022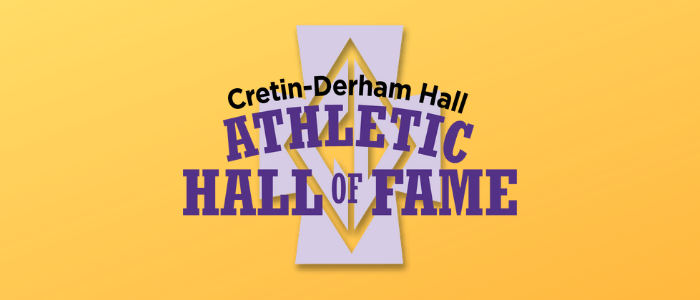 The CDH Athletic Hall of Fame was created to recognize all student-athletes, teams, coaches, and others who have made significant contributions to the school's athletic community, whether at Cretin, Derham Hall, or Cretin-Derham Hall.
The goal is to not just recognize individual athletic accomplishments, but team successes. So, the CDH Athletic Hall of Fame includes the induction of championship teams to highlight the importance of all team members and coaches.
2022 Event
June 16, 2022, Joe Mauer fieldhouse
Social hour at 5:30
Dinner at 6:30
Program will follow dinner 
2022 Inductees
CDH is proud to announce this year's inductees:
Winter 1990-91 & 1992-93 Raider Boys Basketball Teams
Spring 1991 Raider Girls Softball Team
Winter 1980-81 Derham Hall Gymnastics Team
Fall 1957, 1958, 1959, and 1960 Cretin Football Teams 
Mike Scanlan '70 - Played football, hockey, and baseball at Cretin. Football and baseball at Butler for one year then finished his collegiate career playing football at the University of St. Thomas. 
Cathy Childs Clyde '85 - Played volleyball and basketball and ran track at Derham Hall. She continued her athletic career at the University of St. Thomas and the University of Minnesota. 
Lauren Gibbemeyer '07 - Played volleyball at CDH, the University of Minnesota, and professionally. Retired from the U.S. Women's national volleyball team.
Courtney Norman '98 - Competed in gymnastics for CDH and the University of Minnesota. 
Natalie Roedler Bollinger '98 - Played basketball and soccer at CDH and continued her soccer career at the University of Wisconsin.
Corbin Lacina '89 - Played football for CDH and Augustana College. Spent ten years in the NFL, playing for the Buffalo Bills, Carolina Panthers, Minnesota Vikings, and Chicago Bears.
Ryan Harris '03 - Played football at CDH and Notre Dame. Spent nine years in the NFL, including as part of the 2016 Denver Broncos team that won Super Bowl 50.
Jack Hannahan '98 - Played football, basketball, and baseball at CDH. Continued his baseball career at the University of Minnesota then spent nine years in Major League Baseball.
Ray Hitchcock, Honorary Raider Award - After playing football for the University of Minnesota and the Washington Redskins, Hitchcock has coached at CDH for 20 years, impacting a generation of football players.
Congratulations, and go Raiders!
Subscribe to our e-Newsletters
You might also like: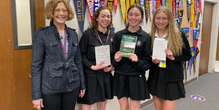 Three juniors received books from Ivy League schools in honor of their hard work.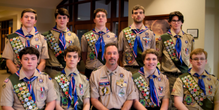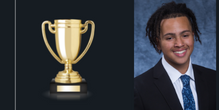 Remi Pye '22 has been honored with the Stacy Robinson Leadership Award.