Campus Construction to Begin in May
April 10, 2019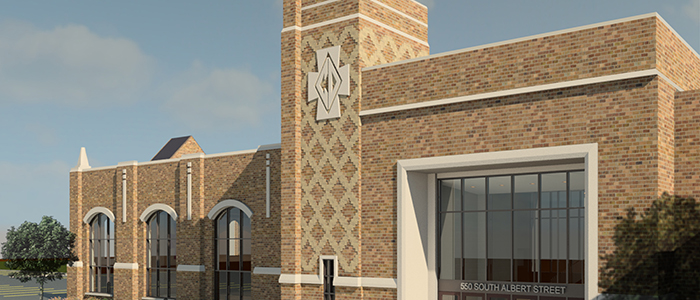 This spring, we will begin construction on the new school entrance and gathering space at the current Activity Center entrance. After a thorough bid process, Cretin-Derham Hall has selected Opus Design Build, L.L.C. as the general contractor for the project. Construction is planned from mid-May through mid-November. Check out the artist's renderings in the slide show.
Our goal is to minimize disruptions, however, it should be noted that there will be adjustments needed to accommodate the construction zone and to ensure personal safety around the campus. Signage will be put up designating entrances and parking areas. We will continue to advise students, parents, and the broader community on directions for events.
Week of May 16
The perimeter fencing will be put up surrounding some of the parking lot and Activity Center entrance.  The Activity entrance will be closed and students and the community will be using the Albert Street doors and/or the Hamline Ave entrances.
The Groundbreaking Ceremony is planned for May 16. 
Week of May 20
During construction, the entrance into the Griep Family Gymnasium will be through the two Eastern-most doorways from the hallway near the Pax Christi Chapel. Note: the hallway in front of the Griep Family Gymnasium west of the middle gymnasium door will be closed beginning May 20.
Preferred Entrances into School and Joe Mauer Field House
Due to construction, the Activity entrance will be closed down. While school is in session, the main Albert Street doors can continue to be used by students, faculty/staff, and visitors. 
It is recommended that students, faculty, and visitors, including those for athletic events, after hours use the main entrance off Hamline Avenue to access school and the Joe Mauer Field House. Visitors and students who come late will continue to check in at the Visitor's entrance off Albert during the school day even if they enter off Hamline.  Parking will continue to be available on the street, in the Hamline Avenue parking lot near the turf field, and in the circle drive near the theater entrance.
Infrastructure Update Project Continues
In addition to the new construction, the infrastructure project is also underway throughout the entire campus. These projects will also continue throughout the summer and impact all areas of the school:
Access control on all doors and security camera system
Upgrading doorway entrances into classrooms in the old building
Building automation, temperature control sensors
New HVAC System
PA system
Lighting upgrades
Thank you in advance for your patience and flexibility during construction.
Subscribe to our e-Newsletters
You might also like: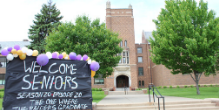 On Wednesday, May 27, the senior class picked up their caps and gowns. Congratulations!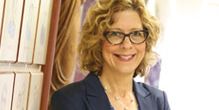 A message from Principal Mona Passman.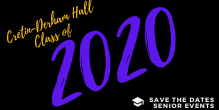 There are no words to convey how sad we are that we are facing a global health crisis just as the class of 2020 is preparing to graduate from Cretin-Derham Hall.