Celebrating Native American Heritage
November 18, 2021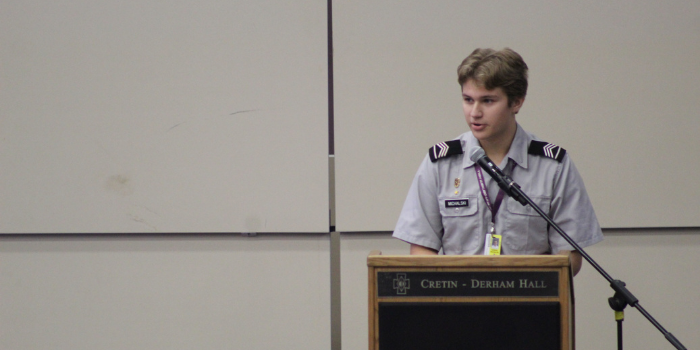 On Monday, November 15, we celebrated Native American Heritage Month. Students gathered in the Field House to learn more about Native culture and history, and to celebrate the impact that Native people have had on the United States as a whole.
The assembly began with a slideshow highlighting notable Native Americans, put together by Values students in Emma Denzen, Christina DeVos, and Joe Moss' class. 
Clare Lasure '25 served as the MC and  also read a poem, "Sure, You Can Ask Me A Personal Question," by Diane Burns.
Cailin Ryan '25 read a Cretin-Derham Hall Land Acknowledgement Statement, acknowledging that our school stands on Dakota land.
Gabriel Michalski '23 spoke about his Native Heritage, and his experience growing up with a mother and grandmother who were very connected to their culture. 
"I want our community to know that Native people come in all different colors, including blonde hair and blue eyes," Michalski said. "We should never make assumptions about race. Growing up hearing stories, going to pow wows, and learning about my ancestors was always something I'm glad I got to experience. Being Native makes me proud and I am happy I don't have to hide it like my ancestors before me. While we may look different, God made everyone with the same amount of love, respect, and dignity."
Adriana Rice '24 read a piece about the Dakota people submitted by Tara Perron (mother of students Jose '22 and Isaac Garcia '24) and introduced a video called "Sacred Minnesota." 
The assembly also included a number of educational videos, introducing students to a range of  aspects of Native culture. Thank you to all of the students who helped make this event a success!
Subscribe to our e-Newsletters
You might also like: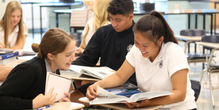 Scholarship applications are due February 1, so apply today!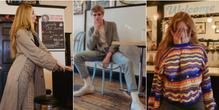 Vogue Club, new this year, allows students to learn about fashion design, modeling, and photography. By Greta Cunningham '23, Communications Apprentice.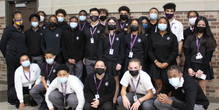 AFAM is a space for relationship building and fellowship, particularly between students of color.