Chicago Razzle Dazzles Audiences
By Chris Hill '01, Theater Director
May 11, 2022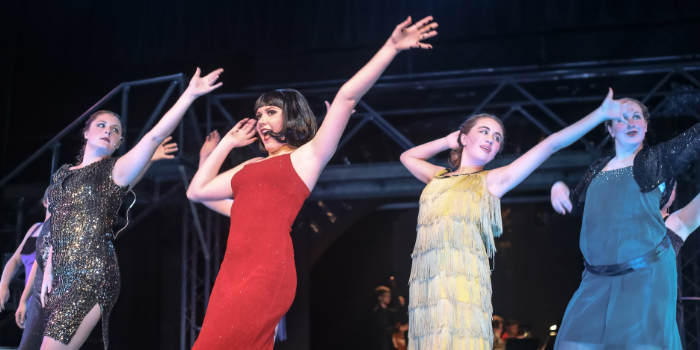 This year's spring musical, Chicago, has been a jazz age spectacle of music, dance, and story. Under the direction of newcomer to CDH Penelope Parsons-Lord, CDH students created a version of the classic Broadway musical with a fresh perspective that focuses on the historical and emotional context not always explored in other productions.  
Students have had an opportunity to connect and perform across all grade levels. Ensemble member Sky McLeod '25 commented that "the openness and inclusivity of the CDH Theater community has allowed me to be myself and explore some of the many opportunities CDH has to offer. I've been able to meet new people and grow my talents on the Lillian Theater Stage."
Ensemble member Canaan Balema '25 agreed. "The rehearsals can be long and tiring at times but being together in a safe place to sing and dance has been the most fun!"    
Billy Canter '23, who plays hot shot Chicago lawyer Billy Flynn said, "I love the show. It has been a fun process. Getting back to performing for live audiences has been awesome. I especially love using all the magic tricks I have up my sleeve and surprising people during the song Razzle Dazzle." 
Audiences have been very receptive to the show. Whether it's the jazz combo playing the music, the sparkling confetti floating in the air, or the fancy footwork of the cast during All That Jazz, performances have delighted all who have attended. 
"Collaborating with everyone on our version of Chicago has been the perfect way to end my senior year," said Assistant Director Emma Coty '22.
Chicago's Cast and Crew Recognized for Excellence
It was an amazing show, but don't take our word for it - the production was also recognized by the Spotlight Awards! The show was given an Honorable Mention in an Achievement in Musical Theater as well as Outstanding in Overall production and another Honorable mention in Overall Performance. They will perform at the State theater in downtown Minneapolis on June 13.
Students also received individual awards:
Performance 
Anna Ek - Outstanding 
Addison Keske - Outstanding 
Billy Canter - Honorable Mention 
Technical Leadership - Outstanding 
B. Kelly - Sound
Charlie Geiger - Sound 
Noah Glode - Lighting 
Evenson - Lighting
Leah Stoltz- Costumes
Natalie Seng - Costumes  
Emma Coty- Assistant Director 
Technical Leadership - Honorable Mention
Daniel Harris- 
Spotlight
 Operator 
Keegan Downes - 
Spotlight
 Operator 
Evaluator Shout Outs
Danny Weber
Tavary Un
Julia McSherry 
Sarah Craighead 
Subscribe to our e-Newsletters
You might also like:
In honor of the Class of 2022, consider a donation today.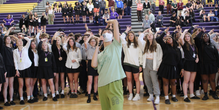 Our all-school assembly included music, dance, and a fashion show!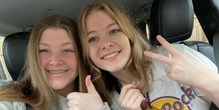 Follow along with a day as a CDH ninth-grader!