Choir Performs Fall Concert
November 19, 2020
At the end of October, the choir gathered in the Lentsch Forum and virtually to perform their fall concert. The piece they chose was Requiem, by Eliza Gilkyson, arranged by Craig Hella Johnson. The Requiem was written in memory of the thousands who lost their lives in the 2004 tsunami that struck much of East Asia. 
"As a choir, we feel that this song carries an especially relevant message of peace and hope in a time where many need to hear that message," said Choir Director Tyler Berg.
Berg, who is in his second year teaching at CDH, has found that masks make teaching choir significantly more challenging.
"So much of what we teach is visual pertaining to the mouth, from modeling vocal embouchure to mouthing words at singers when we are performing," he said. "It is also difficult to provide feedback about technique when you can't see the student's faces."
In order to put on virtual and socially-distanced concerts, he has also had to quickly develop tech skills that were not part of his training. 
"Teachers around the world have quickly had to become excellent video and audio editors, especially teachers in the performing arts space," he said. "I've never had any training in video or sound editing prior to spring 2020. I think some of the technological skills I've learned will be highly valuable going forward."
While the COVID-19 pandemic has put a damper on the performing arts, Berg and his students have done everything possible to continue making music together. They are excited for the day when they can gather together and perform for and audience again, safely.
"The pandemic has put into perspective for me how important the sense of community and belonging are in a performing ensemble," Berg said. "I'm excited to have the whole choir back together again, so we can continue to learn about one another and grow as a whole."
Subscribe to our e-Newsletters
You might also like: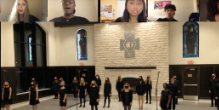 The performance was filmed and uploaded to YouTube, due to restrictions.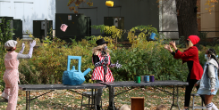 The Theater Department finds creative ways to continue performing.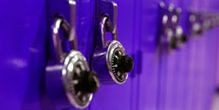 The latest news from Athletics, Counseling, JROTC, Theater, Choir, and Band.