Class Notes: August 2019
August 28, 2019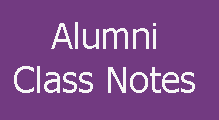 1950s | 1970s | 1980s | 1990s | 2010s 
Share your news with us! Submit a Class Note.
1950s
The new Black Box Theatre at St. John's College High School in Washington, D.C. was named in honor of Gene Morrill '52, who taught drama there early in his career.
1970s
Alan Link '73 has been promoted to Associate Vice President - Legal and Senior Managing Attorney - Real Estate at Regis Corporation.
1980s
Dawn Reding '88 was profiled in the Pioneer Press for her company, Gloves Up. She sells a line of boxing gloves that are designed to be given as a gift to loved ones who are struggling.
1990s
Lisa Utvik Simplot '90 opened a residential house cleaning company, Two Maids and a Mop, in Woodbury. They service all of St. Paul and most of the surrounding area. 
Chris Weinke '90 was inducted into the Florida Sports Hall of Fame. He was part of the Florida State '99 national championship team and won a Heisman Trophy in 2000. He's currently on the coaching staff.
Kaitlin Beaudry Turner '99 was sworn in as Interim District Attorney for the 11th Judicial District of Colorado. Her term will expire at the end of 2020.
2010s
Conor Rhoda '13 spoke at the 30th annual Bruce Smith Golf Classic on June 17. 
Hannah Kampmann '16 had an excellent softball season at Trine University. She was honored as Michigan Intercollegiate Athletic Association Pitcher of the Year and first-team all-conference. She was on the NCAA Regional All-Tournament Team and the NCAA Softball Championship World Series All-Tournament team. Overall, her team finished third place out of 418 D3 teams.
Elle Crawford '17 was voted third-team All-American for women's lacrosse. She plays for Regis University.
Casey O'Brien '17 spoke at Big Ten Media Days. He is a four-time cancer survivor and football player at the University of Minnesota. You can watch his speech on YouTube.
Chan'el Anderson-Manning '18 earned Honorable Mention All-Conference in the Minnesota Intercollegiate Athletic Conference. She plays basketball for Hamline University.
Michael Hannon, Joseph Nussbaum, Noah Peirson, and Zachary Sommerfeld, all '18, became Eagle Scouts in a joint ceremony with a fifth member of their troop on August 6.
Share your news with us! Submit a Class Note.
Subscribe to our e-Newsletters
You might also like: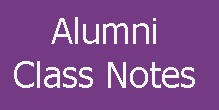 News from our distinguished alumni.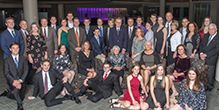 Register for upcoming alumni events.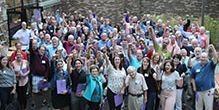 Our expanded class representatives program will help all alumni stay connected with CDH.