A Day at CDH: Joe Peterson '23
By Joe Peterson '23, Communications Apprentice
January 25, 2022
On January 25, Joe Peterson '23 took over the CDH Instagram account to show off a day as a Raider. 
Hi, my name is Joe and I'll be taking over the CDH Instagram today! I'm a junior this year, and in addition to being a Communications Apprentice, I also participate in Political Affairs Club, Performing Arts, and the Student Ambassador internship with Amerigo Education.





Before heading into school, I usually meet up with my friends to share some breakfast, cram for a test, or just catch up before the day!




I start my day out in AP Microeconomics with Ms. Androsky. The is just a two trimester course, so today we began learning our final unit on Market Failure and the Role of Governnnent. After this, we'll start to review for the end of year AP Test.

My second hour is AP Chemistry with Ms. Jamieson. Today we continued our unit




on Equilibrium, using "RICE" tables to solve equations involving pressure and concentration.

In Mandarin 301 today, we practice speaking by playing a game called tiǎo qǐ (跳棋). It is a strategy game where the object is to make it from one side of the board to the other. At our class level, we are only allowed to speak Chinese during the game!

Ethics today gave us the opportunity to reflect on our own intrapersonal intelligence through creative expression. We colored personal charts, and shared them with the class.




My last class of the day was AP US Government and Politics. Today we analyzed Federalist No. 78 and continued our dissection of the Judicial Branch.

My friends and I finish off the day with a quick coffee date.




That's all for today, thanks for following along!
Subscribe to our e-Newsletters
You might also like: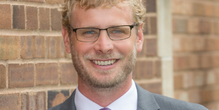 Joe Hutchins is named Dean of Students at Cretin-Derham Hall.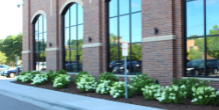 The summer Work Program at Cretin-Derham Hall is led by Peggy Gilligan and Ruth Johnson and includes indoor and outdoor crews working hard to maintain the building.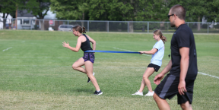 Between camps, classes, summer workers and so much more, CDH is bustling this summer.