Flaherty Family Foundation Provides Tuition Assistance/Personalized Coaching to High Achieving CDH Students
September 14, 2022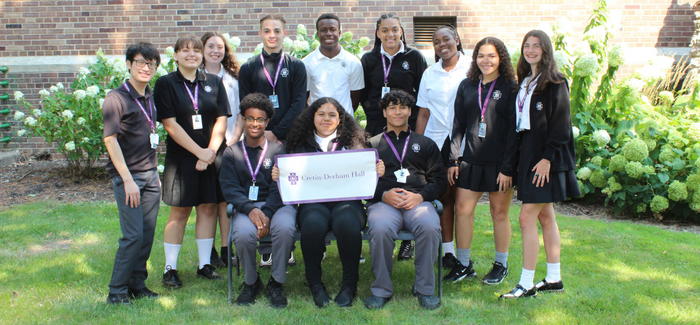 The Flaherty Family Foundation is a scholarship granting organization that has been working with Cretin-Derham Hall since 2017 to provide funding to high achieving students with economic need. Since 2017, the Flaherty Family Foundation has contributed over $200,000 to CDH in support of Flaherty Scholars. 
Frank Miley, CDH President, is thrilled to be working with them. "CDH is immensely grateful for the work of the Flaherty Foundation. Ed and Beth Flaherty and their dedicated staff are truly invested in the lives of their scholarship recipients. They are committed to the scholars' success and wellbeing long term." 
FFF provides Flaherty Scholars with personalized coaching to ensure academic success, graduation with a college degree, and manageable student loan debt upon entering the workforce. 
Flaherty Scholars not only achieve great success academically, they are mentored and guided by an entire community who are dedicated to each of their scholar's success and go above and beyond to ensure they become well rounded, confident, and valuable citizens of the world. 
Ed Flaherty began the Flaherty Family Foundation almost 30 years ago and asked his daughter, Beth Flaherty, to lead the Flaherty Foundation in 2015. Since joining the Foundation, Ms. Flaherty has grown the organization from three Scholars in one high school to over 400 Flaherty Scholars in 35 faith-based high schools in Minnesota, Virginia, DC, Maryland, Montana (Great Falls) and New Jersey.
"Our greatest hope is that we're successful building a community of scholars who become a world force," said Ms. Flaherty. " We hope they support each other, they network with each other, they collaboratively and collectively contribute to society in a very big way to make our world a better place."
"The CDH Flaherty Scholars take great pride in their work and are dedicated to success now and into the future," said Frank Miley. "The Flaherty Foundation changes lives by investing in young people. Their work is truly inspirational!"
Subscribe to our e-Newsletters