Generosity in Action
November 9, 2022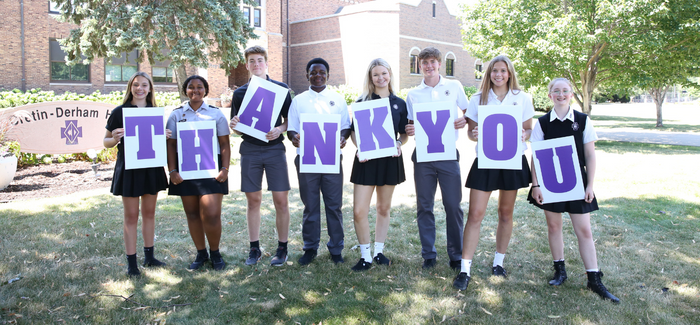 Dear CDH Community,
Thank you for your generosity.  
That single word holds great meaning at CDH because we see it in action every single day.
Over the past month, our GiveCDH Day to support tuition assistance was a fantastic success with a wide swath of support from our community. 
Consider the fact that one of our donors was from Class of 1940! (He graduated from Cretin 83 years ago!)  An impressive 29% of those who participate on GiveCDH Day are current or past parents! The Class of 1960 (Cretin and Derham Hall) rallied their classmates, resulting in 25 donors, topping the Class Giving leaderboard.  
One of the giving challenges on that day was from our sponsors, the Christian Brothers and the Sisters of St. Joseph of Carondelet, who hoped to motivate new and increased gifts, resulting in a wave of new energy with 45 donors (5%) who have never given to CDH before and nearly 50% of donors increased their GiveCDH gift over last year.
We also celebrated the successful conclusion of the Strong Foundation - Vibrant Future Campaign which brought in more than $22.4 million over the past five years. 
Wow!  This level of support from our community is second to none and we are in awe of the impact that comes from this generosity.  
Let's be clear about why this matters.  Because of our community's generosity, today's students and families benefit from unparalleled excellence in their CDH experience:
Tuition Assistance of more than $10 million -  this keeps tuition lower for each and every student and provides significant needs-based aid so that any family who wants a CDH education for their children can get one.
Plus, we were able to invest:
New Lentsch Family Forum, the new living room of our school, where students work and connect with each other daily.

The Ryan STEM Center, where design and engineering space encourages cross-curricular problem-solving, creativity, collaboration and more.

Significant campus updates that focused on digital network enhancements, safety and security, energy efficiencies and basic infrastructure needs of a campus that is over a hundred years old.

Sponsorship of the CSCOE Believe and Read Program designed to get each student reading at or above grade level in our Catholic elementaries, equipping them with skills needed for lifelong learning and academic success.
Our benefactors clearly know and love the seven values of Cretin-Derham Hall:  Catholic - Academic - Equity - Leadership - Community - Service - Diversity - Equity.   
We have often discussed, that in our minds, we would like to 'add' one more value to that list - generosity!  
Without our community's generosity, the long tradition of excellence and our vision for a strong and sustainable future, simply would not be possible.  
In this month of gratitude, we thank you for partnering with us to support this sacred mission entrusted to us by our founders, the Christian Brothers and the Sisters of St. Joseph of Carondelet.  
May God continue to bless you and those you love.
Live Jesus in our hearts, forever.
Let us love God and the dear neighbor, without distinction.
Frank Miley, President                                Rob Bollinger, Vice President for Advancement
Subscribe to our e-Newsletters