Heard in the Halls - May 2020
December 31, 1969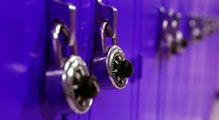 We might not be gathering in the halls of CDH right now, but our co-curriculars still have updates! We encourage you to read all the current blogs, or click below to quickly go to a section.

ATHLETICS | COUNSELING | JROTC | CAMPUS MINISTRY | CHOIR | THEATER 


Athletics
Boys Basketball
By Tony Yazbeck, Assistant Coach
Congratulations to J'Vonne Hadey '20 on accepting a full Division 1 scholarship to Northeastern University in Boston. 
Daniel Oturu '18 has entered the 2020 NBA Draft. Oturu was named an All-American by both Sporting News and CBS Sports this past season. Oturu is a projected 1st round pick in this years' draft.
Boys Hockey
By Matt Funk, Head Coach
Congratulations to Matt Gleason '20 who was recognized as the Youth Hockey Hub Player of the Year, and to Jake and Zach Sondreal '22 on being selected by the Dubuque Fighting Saints in the phase 1 USHL Hockey Draft.
Girls Hockey
By Phil Archer, Athletic Director
We are pleased to announce the hiring of Tony Scheid as our new varsity hockey coach, Coach Scheid led Stillwater to two state championships while at Stillwater. Welcome, Coach Scheid!
Girls Swimming and Diving
By Phil Archer, Athletic Director
We are pleased to announce the hiring of Lisa Thomas as our new varsity swim coach. Coach Thomas comes to us after a long and decorated run in the CAA. Welcome Coach Thomas.
Boys Tennis
By Randy Muetzel, Coach
We are saddened that our season was canceled, please keep in touch for summer workouts if those are an option within our state guidelines.
Wrestling
By Dan Willaert, Coach
A great story about Assistant Coach Walt Wiezke ran in the Star Tribune. We are grateful to have Walt on staff!
Counseling
By Joan O'Connell, College Counselor
Attention Juniors 

Remember to take the online career inventories on Naviance by clicking on "My Assessments," then "Do What You Are," "StrengthsExplorer" and "Career Interest Profiler" for some additional career possibilities! 
The Minnesota State Colleges and Universities are conducting a virtual exploration week June 22 – 26, 2020 for interested prospective students. Go to www.MinnState.edu/MinnStateWk for more information and to sign up.
Remember to ask for your teacher recommendations for college applications. We sent you the instructions to your CDH email on 4/27.
Attention Seniors: End of the Year Reminders and Details

A reminder that ALL colleges require a final official transcript of your high school grades as proof of graduation and as a condition of enrollment. In mid-June, once all third-trimester grades have been submitted and recorded, CDH will send your final official transcript to the college/university you indicated that you will attend on your senior survey. Unless you change your mind about where you will attend, no other request is necessary. If you have a college advising/registration appointment prior to mid-June and need a transcript, you can use an unofficial copy on your Infinite Campus account. Please complete your senior survey on Naviance as soon as possible.  
It is contrary to the "Code of Ethics and Professional Practices" of the National Association for College Admissions Counseling for students to make multiple college enrollment deposits. CDH will send only one final transcript in June. Consult with your counselor if you need help making your decision.
Graduates in the Class of 2020 who have paid for PACC (Program for Advanced College Credit) credits from St. Mary's University of Minnesota and who want to get college credits for these courses must have a transcript sent from St. Mary's to the college or university where the student will attend this fall. Your college can then determine whether or not they will award college credit for this work in high school. Wait until mid-June to request a college transcript, as CDH has to get the final grades to the college – usually by early June. Request an official St. Mary's transcript here. Click on "National Student Clearinghouse," type in Saint Mary's University of Minnesota (it will start auto-filling but you must spell out Saint). You will then be able to order your transcript. If you do not know your ID number, you can use your social security number. Questions? Call St. Mary's at 507-457-1501.
If you took CIS (College in the Schools) Classes at CDH through the University of Minnesota and want these classes to be considered for college credit at the school you will attend next fall you will need to request an official University of MN transcript. Go to www.onestop.umn.edu, under the "Academics" tab click "Grades & Transcripts" to request your transcript. Instructions will also be given to you by your CDH teacher.
To send your AP scores to your college, go to apscore.collegeboard.org and follow instructions. Scores for tests taken in May of 2020 will be available in July.
Graduating seniors who are planning to attend state colleges and universities in Wisconsin must file a "Tuition Reciprocity Application" with the Minnesota Higher Education Services Office in order to receive tuition reciprocity. Applications for the 2020-2021 academic year are available online. This application must be filed and approved before a student can register for classes at the reduced tuition rate - so don't delay. If you are attending a public university in North or South Dakota, arrange for reciprocity through the school you will attend
Please remember that CDH teachers write hundreds of letters of recommendation for students as they apply to colleges and universities - over and above all the other responsibilities they have as classroom teachers and coaches.  Be sure to let your recommenders know where you have decided to attend college in the fall and please take a minute to thank them for this very important work that they do on your behalf.
JROTC
By LTC Jamie Fischer, SGM David Berrisford, and MSG Ken Peloski

Social distancing and online school have both become the norm for our school. Although our current situation is challenging for all, we continue to deliver classes, but oftentimes more importantly, we check on the kids to make sure they and their families are doing alright. We are social creatures and these times are trying to us all, but we know we will emerge from this with a new appreciation for friendships, family gatherings, holidays, etc. We pray you stay healthy, physically and mentally, and hope to see the students back in the classroom in the fall.
We are working very hard to engage the students in their online classes. There have been challenges with internet connectivity, classroom application tools that sometimes are on the blink, and a bit of confusion on schedules, but these seem to have been resolved and we are assigning work and meeting online as planned. We are very proud of the students being very diligent in being prepared for classes and getting their work done. We are convinced this is because of the strong character our cadets have.
We are very excited to announce that the 2020-2021 opening enrollment will be at or above 300 students! Of the 300, we are really excited to see 83 incoming ninth-graders electing to become a part of the Raider Brigade. The upcoming year will see, for the fifth consecutive year, an enrollment over 220 or more. Our sustained strength, we believe, is attributed to the fine students we have in JROTC and their spreading the word that we are a great program at CDH.
Although we are not in school, we have gone through our records and are happy to report the awarding of varsity letters for the following activities:
Air Rifle Team: Isabella Keating, Cristian Pornschloegl, Holden Saumweber, Reid Turbak, Will Meyer, Hugh Burda, William Ek, Charles Weber, Natasha Krieger, Avery Cavanaugh, Henry Votel, Erin Hannon.
Honor Guard: Simon Baumberger, Eli Brotman, Monica Calkins, Andrew Domler, Will Domler, Christian Strommen, Nick Owsley, Sam Andrzejek, Martha Enestvedt, Sean Xiong, Alex Ngo, Brian Willems, Erin Hannon, Mallory Larson, Benjamin Weber, Matthew Wingerd, Paris Edwards, Adrian Espino, Je'Teyah Thomas, Steffen Xiong, Seamus Dougherty, Laura Evenson, Kyria Mazzitello, Alex Heer, Jack Patwell, Ryan Gainer, Christian Pornschloegl, Zach Steigauf, Henry Votel, Spencer Goulet, Natasha Krieger, Isabella Lauer, Samantha Pizinger, Ayden Burke, William Ek, Anders Engstrom, Darby Anderson, William Burke, Elizabeth Dougherty, Max Karas, Margaret Musolf, Charles Lindell, Jessica Lutmer, Valerie Krinke, Avery Cavanaugh, Sofia Herr, Morgan Machtemes, Daniel Umland, Emery Brathwaite, High Burda.
Armed Precision Drill: Rylie Cormell, Sam Andrzejek, Jon Anderson, Lucia Copps, Isabella Lauer, Christian Pornschloegl, Avery Cavanaugh, Daniel Umland, Martha Enestvedt, Valerie Krinke, Anna Zastrow. 
Regulation Drill: Elizabeth Dougherty, Alex Fruean, Jackson Moryn, Samantha Pizinger, Martha Enestvedt, Margaret Musolf, Sam Andrzejek, Karina Keis, Benjamin Weber, Jenna Barron, Stephen Xiong, Sean Xiong. 
Color Guard: William Burke, William Domler, Maxwell Karas, Maxwell Guyott, Zachary Steigauf, Brian Willems, Dominic De Los Rios, Adam Stomberg, Ayden Burke, Patrick Domler, William Ek, Justice Linton, Kyria Mazzitello, and Marvin Millard. 
Our Regulation Drill team had a great year and the recent circumstances prevented the team from continuing their winning tradition. We would like to thank team Captain Margaret Musolf '20 for her dedication and leadership as she hands over the team to Martha Enestvedt '21 and Assistant Team Captain Ben Weber '22.. 
We say farewell to John Anderson '20 as the Armed Precision Drill Team Captain. John has been training the precision team since last September, and we are all disappointed the team will not be able to showcase their talents for the JROTC Twilight Parade that was canceled this year. John enhanced the sequence that will be part of the routine for many years to come. Thank you John, for all you have done. He passes off the team to Sam Andrezejek '21 and assistant Team Captain Valerie Krinke '22.
We are very excited for next year's Air Rifle season. We will be a very young team, but we have many returning team members and they will be led by Isabella Keating '23 and Holden Saumweber '23. We had achieved wonderful advances over the last year and we will build on these to become a much stronger team for next year.
The color guard had a good year presenting the US and School flags at numerous sporting and community events. The quarantine has prevented us from supporting the Highland Little League, Memorial Day and other events. Thanks to seniors Max Karas, Will Domler, and Will Burke for their leadership this year. Max Guyott, Zach Steigauf, and Brian Willems will be next year's captains.  Congratulations to those who lettered: Will Burke, Will Domler, Max Karas, Max Guyott, Zach Steigauf, Brian Willems, Dominic De Los Rios, Adam Stomberg, Ayden Burke, Patrick Domler, Will Ek, Justice Linton, Kyria Mazzitello, and Marvin Millard.
Flight club had to cancel several planned events, but we did get to see the Minnesota Air National Guard do fly-overs on May 6.  
The orienteering season was canceled due to the quarantine. This does not mean that you cannot grab a map and get outside! Go to MNOC.org to see information about permanent orienteering courses and virtual courses.
Our Honor Guard continued to do wonderful service work for CDH and the community as a whole this past year. We assisted with multiple alumni, advancement, and community events. Our outgoing commanders, Monica Calkins '20 and Jack Patwell '20 did a fantastic job coordinating volunteers.  These two young leaders epitomized what selfless service means. Our new commanders will be Ryan Gainer '21, Sofia Heer '22, and Seamus Dougherty '22. I know they will carry on the great tradition of service and will lead this group to new heights.
Congratulations to our new Cadet Officers: David Ek, Nick Freeman, Teagan Foley, Cage Linton, Jessica Lutmer, Louis Lynch, Connor O'Donnell, and Ben Thuente. These students persevered, passed the round 2 exam, and are in good standing in the Raider Brigade. We hope those who took this test this round but did not reach the goal will contact instructors to schedule a verbal exam this summer before August 7.  
It is with a great deal of sadness I must announce that LTC Jamie Fischer has decided to end his tenure as the Senior Army Instructor at CDH. He has been here 10 years and because of his devotion to the CDH JROTC program, our Corps of Cadets is stronger and more prepared to take on leadership challenges both at CDH and into their lives as adults. LTC Fischer will be greatly missed.  He has decided to move on to other endeavors. LTC Fischer has worn the uniform of the U.S. Army for 23 years on active duty and 10 years here at CDH. He has earned the right to spend more time with his family and try something different in life. We wish him nothing but joy and health as he moves on. Thank you, LTC Fischer!
Members of the Class of 2021 who are considering military scholarships should be working over the summer to complete their applications online. Those interested in military service should be getting online to see how to do correct military pushups, pull-ups, and sit-ups, then practice, Practice, PRACTICE by doing more and MORE repetitions. Become comfortable running 2 – 5 miles. ROTC scholarships pay for tuition, fees, books, and up to $16,000 in allowances over four years. Institutions such as St. Thomas, St. John's, and Marquette add room and board to these scholarships to make them "full-rides." The Academies all provide free tuition, room, board, uniforms, and a generous stipend. Early application means earlier consideration and notification of results. Please understand that there is a military service obligation as a commissioned officer following graduation from college ROTC or an Academy. Websites with information, including the applications, are easy to find via a keyword search. All the service academies and ROTC have clear checklists on their websites. Follow those and you will succeed. If you have any questions, please contact us.
Choir
By Tyler Berg, Choir Director
I hope you are all safe and healthy. I want to update everyone a little bit about what the CDH Choir has been doing to keep busy during online school. Each week, the students upload a recording of them singing a part from one of our songs. This has been a way to keep the students singing, and if there is a silver lining, the students are able to get more individualized feedback regarding their singing that in the classroom setting, they less frequently get.
When we aren't making recordings, we use our class time as an opportunity to meet and check-in with one another. The community aspect of choir is such a valuable asset, and we have been trying to meet as a community at least once a week to keep that aspect alive. Next week, we are hoping to have completed our "Virtual Choir" video, which will feature members of the choir singing together remotely. We'll be sure that the video finds its way into the community as soon as it's completed! The students and I are very eager to get back into the classroom, but they have embraced this "substitution" for choir wholeheartedly, and for that, I am grateful.
Subscribe to our e-Newsletters
You might also like: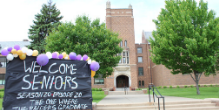 On Wednesday, May 27, the senior class picked up their caps and gowns. Congratulations!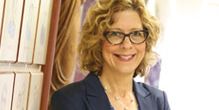 A message from Principal Mona Passman.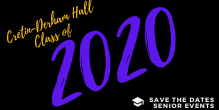 There are no words to convey how sad we are that we are facing a global health crisis just as the class of 2020 is preparing to graduate from Cretin-Derham Hall.