Heard in the Halls - October 2020
October 14, 2020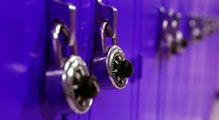 We encourage you to read all the current blogs, or click below to quickly go to a section.

ATHLETICS | COUNSELING | JROTC | CHOIR | BAND


Athletics
Boys Soccer
By Hugh Hawkins '93, Head Coach
The boys' soccer team just finished up a tremendous regular season that included a season sweep of state-ranked East Ridge. We head into section play as the #3 seed and will host Eastview at 7 pm tonight, October 14.
Football
By Chuck Meisbauer '03, Head Coach
The football team was scheduled to open its season last Saturday against Roseville. On Friday night, we were informed that Roseville could not compete due to a positive COVID test. We then scheduled state powerhouse Lakeville North on short notice. The result was not what we hoped for but we gained valuable experience playing a very talented team. We play at White Bear Lake this Friday at 7 pm.
Girls Tennis
By Tim Spika, Head Coach
The girls' tennis team finished the season with a 7-6 overall record; we advanced to the section quarterfinals where we lost to South Saint Paul in a hard-fought match. Next season we return the majority of our roster and look forward to a great 2021 season. 
Volleyball
By Sara Waters, Head Coach
The volleyball team has shifted gears again and now we are back playing this fall. We have a very young and exciting team and look forward as we continue our team growth in the always tough Suburban East Conference. You can catch several of our games on Prep Spotlight.
Girls Swim and Dive
By Lisa Thomas, Head Coach
The girls' swim and dive team has shown great improvement over the season. We are now preparing for our sectional meet on October 22 and 23. Unfortunately, we will not be able to have a state tournament this season due to the COVID 19 pandemic. We look to finish the season strong next week.
Girls Soccer
By Greta Geheren '21
The girls soccer team has been on a roll lately; things have really started to click as we head into sections. We will attempt to defend our section championship as we host Minneapolis South tonight, October 14, at Wingerd Field. 
Counseling
By Joan O'Connell, College Counselo
College Financial Aid 
In lieu of our traditional, in-person College Financial Aid Night, we now have an informative video presented by Cheryl Dooley, a Financial Aid Officer at Hamline University.  Cheryl is an excellent presenter and her presentation helps to make a complicated process understandable. We highly suggest you view this video before you tackle applying for college financial aid. 
The FAFSA, or Free Application for Federal Student Aid, is available for families to file for college financial aid beginning October 1st for the 2021-2022 school year. Tax information from 2019 tax returns will be used for the income section of the FAFSA for both students and parents.  Specific questions can be directed to any college financial aid officer.
College Application Deadlines 
The November 1 priority deadlines for admissions and scholarships are coming up fast. Seniors must pay careful attention to deadlines and be sure to have CDH Application Contracts to the counseling office at least two weeks prior to your earliest deadline. This contract is how you request to have your CDH transcript and other supporting materials sent to your schools. If you have a November 1 deadline, you must have your CDH Application Contract to the counseling office by Friday, October 16 to assure that your CDH materials can be sent by the November 1 deadline. 
Questions or need help?  Contact the Counseling Office at 651-696-3312. Here is the link to the form needed: College Application Contract
JROTC
By LTC Greg Hungiville, SGM David Berrisford, and MSG Ken Peloski

As JROTC Raider Brigade has embarked on another school year at CDH, it is clearly like no other year we have ever experienced. Although the pandemic creates some challenges for us this year, we will not let it derail us from continued success as we continue to maintain excellence in our 103rd year of pride and tradition in the CDH community.
One thing that has not slowed down is the continued increase in enrollment in JROTC. We have averaged 86 new ninth graders every year for the past three years. If the trend continues into the next school year, we will see an opening enrollment in JROTC of over 330 cadets. 
Traditionally in September, we have two big events, the Fall Review Parade and the Camp Ripley adventure training. Unfortunately, we had to cancel both of these events due to the pandemic. Hopefully, we will be able to reschedule the Camp Ripley trip for the spring if all goes well.
October in JROTC is the month of the senior class. The time-honored tradition of promoting our deserving seniors to Diamond Officers will still happen on October 30. After a records review, inspection, peer, and faculty evaluations, the ceremony will still take place, but it will have a very different look. The eligible seniors who make the final cut will be promoted to Major, Lieutenant Colonel, and the top senior will be promoted at the Cadet Colonel and will lead the Raider Brigade for the 2020-2021 school year. We wish all the candidates the best of luck.
We will also move forward in a safe manner to start up some of our co-curricular teams such as color guard, air rifle team, crack drill, and possibly move forward with a JROTC robotics team with equipment that has already been furnished by the US Army Cadet Command.
Members of the Class of 2021 who are considering military scholarships should be working to complete their applications online. Those interested in military service should be getting online to see how to do correct military pushups, pull-ups, and sit-ups, then practice, Practice, PRACTICE by doing more and MORE repetitions. Become comfortable running 2–5 miles.
ROTC scholarships pay for tuition, fees, books, and up to $16,000 in allowances over four years. Institutions such as St. Thomas, St. John's, and Marquette add room and board to these scholarships to make them "full-rides." The Academies all provide free tuition, room, board, uniforms, and a generous stipend.
Early application means earlier consideration and notification of results. Please understand that there is a military service obligation as a commissioned officer following graduation from college ROTC or an Academy. Websites with information, including the applications, are easy to find via a keyword search. All the service academies and ROTC have clear checklists on their websites. Follow those and you will succeed. If you have questions, please contact us with questions at (651) 696-3350.
Stay safe and be well.
Choir
By Tyler Berg, Choir Director
We hope you are all staying safe and healthy and enjoying the beautiful fall weather. The choir is currently in the process of recording a piece to be sent out to the community that will take the place of our fall concert. As for the upcoming Christmas concerts, we will not be having the Annual Christmas Dinners, due to the health risks it poses. We will, however, replace it by bringing individual student performances to you digitally to the best of our ability.
We are hoping to have an outdoor dinner event in the spring that would feature DeGidio's catering, a silent auction, and performances by the CDH choir and individual singers.
The Christmas Concert, which is normally done in conjunction with the Band program, will be limited to just the choir (the band will have a separate concert) and open to 2 parents per student. More information and guidelines regarding that concert will make its way to the parents soon. Dates are TBD but will be set soon, pending any drastic changes to our current situation in Ramsey County. 
Thank you for your continued support of singing at CDH! Stay healthy, and hopefully we will see you very soon.
Band
By Nick Zahler, Band Director
The year is well underway and the band is making steady, if unusual, progress. By this point in an ordinary year, we would have had summer band camp, marched in a parade or two, gone to the state fair to perform, and had our marching band field show at the homecoming game. Normally, we would be having lots of fun with pep band performances at football games, cheering on the Raiders. We would also be gearing up for other events like our first concert of the year, and the yearly Band-cake Breakfast.
Quite obviously, this year is not an ordinary one! Band has refined its focus for the time being, putting efforts into preparing concert band music, building band community and camaraderie, and keeping everyone safe. Band class takes place outside as often as possible, with students playing twelve feet apart, and each musician and instrument equipped with instrument covers and masks. Professionally-made equipment covers and masks are en route and should be arriving soon to replace the current equipment. 
Despite the adversities associated with rehearsing with all these modifications, the students are doing an excellent job. The band is progressing musically, transition times are decreasing, and students have kept their spirits up. I would simply like to recognize the renewed enthusiasm of the band students in persevering through these unique times. If you have or know a student in the band, congratulate them on their hard work. 
One final note: I am looking for volunteers to help the Band Parent Association! If you have a child in band and can lend a metaphorical hand, we want you to be involved. The work can be as much or little as you want (and not everybody needs to be the president of the board). Whatever your talent is, be it accounting, sewing, woodworking, working with people, or just helping out with a smile, you're important and we would love to have you on board. 
If you have any questions or thoughts or think you can help out (even an hour a year) with the Band Parent Association, please reach out to me at nzahler@c-dh.org!
Subscribe to our e-Newsletters
You might also like: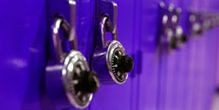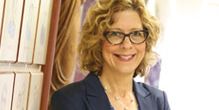 A message from Principal Mona Passman.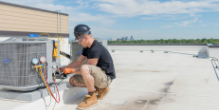 To make CDH even safer, new air purifiers are being installed.