Jesus Christ Superstar Wows Audiences
May 9, 2019

The spring musical, Jesus Christ Superstar, ran from April 26 to May 5. The musical is a rock opera, first staged in 1970. CDH's production was set in the '90s grunge era, embracing the edgier side of the musical. 
"I believe teenagers are prophets. We are supposed to listen to them. They are wise, questioning, tender, emotional, knowing, and theatrical," wrote Theater Director Katie Kreitzer in the program. "Jesus was, and is, divinely reflected in this group of teenagers. My hope is that you see it too."
Each performance of the show began with a spoken word performance by Eli Awada '20. The poem is excerpted here.
Look I must admit, your fire is contagious
But who will break the chains that make us act so complacent?
A Being
A Being?
His stride is unforeseen
A cool cat, a poet, with rhymes so bold and freeing
A being, a force known for challenging the mean
Selfless in nature, his sense of charity is keen
A being, now let me tell you what I mean
A revolutionary radical, revered of resistance
A Pacifist, put up against violence so relentless
Accepting of all races, love, and religions
With women finally given their rightful recognition
At the turn of the AD, he was Galilee's finest
And still in 2019, we refer to this climate
He was, he still is, the voice for the pride-less
His story persists, his revolution is timeless.
Congratulations to the entire cast and crew on an amazing show!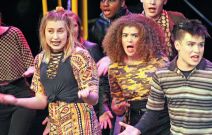 Subscribe to our e-Newsletters
You might also like: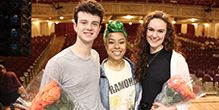 The theater department had a great week, with many students earning recognition for their excellent performances and production work this year.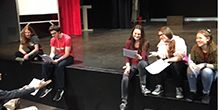 In just 24 hours, students wrote, cast, directed, and performed their own plays.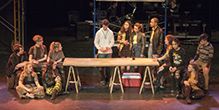 This year's spring musical, Jesus Christ Superstar, was a huge success.