JROTC Made a Great Showing at UJMC
Sam Clausen '19
February 13, 2019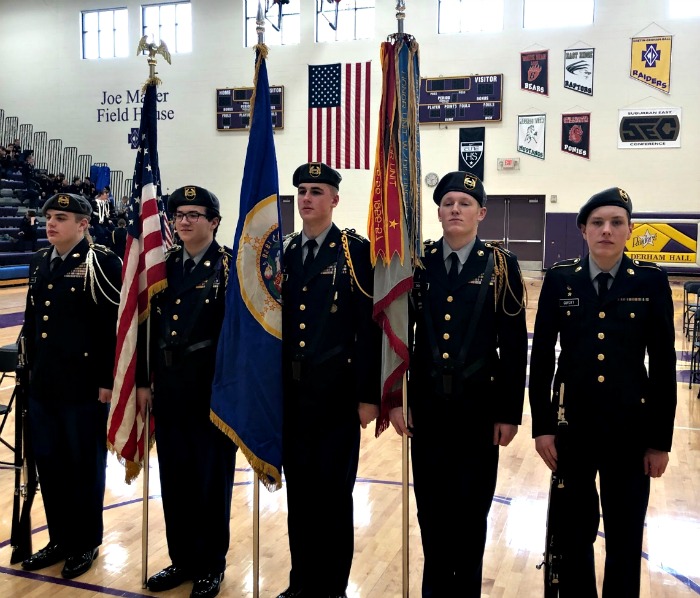 Cretin-Derham Hall hosted the Upper Midwest JROTC Challenge (UMJC) for the 29th consecutive year on February 1. This cadet-run challenge included eleven schools and 300 students from as far away as Michigan, and brought lively competition from all involved as well as multiple wins for CDH. 
"The Upper Midwest JROTC challenge celebrated another spectacular year thanks to such a great visiting teams, and a great Raider Brigade," said Rory King '19, Cadet Colonel.
The UMJC competition consisted of five competitive yet light hearted events.
The first competition was the Physical Fitness competition. This competition included pushups, sit-ups, the shuttle run, pull-ups, and the basketball throw. This was a very popular competition at the event, as all eleven schools competed in it. CDH eked out a win in this event, with Woodbury High School and North Branch trailing close behind.
The second event was the Knowledge Bowl, which included three rounds in total. While the first two rounds were lively and entertaining, the third and final round was truly a test of the competitors' knowledge. Houghton High School reigned supreme in this competition, but it was also a close one, with CDH and Powell Leadership Academy close behind.
Regulation Drill was the third event and consisted of two parts: uniform inspection, in which each squad was carefully inspected by a judge, and marching, in which these squads were scored based on their marching skills. The judges were sticklers and looked for the slightest wrong movements. Woodbury and Sioux City tied for first place, while all of the other schools finished within twenty points of each other. CDH finished in third place in this competition.
"As Captain of the Regulation Drill team, I have seen firsthand how a competition like UMJC brings people together. The weeks of practice leading up to the competition have created a tight-knit group of kids from all grades, and competing in the fun, lively atmosphere of UMJC made all of the early morning practices worth it," said Margaret Musolf '20, Regulation Drill Team Captain.
The final competitions were the legendary knockout drill and tug-of-war competitions. These events were very lively and were a great way to end a successful UMJC competition. The knockout drill competition included every school in attendance, which resulted in a loud finale. Although quick, these events created a very memorable finish.
Rifle Teams from five schools participated in a competition that was held before the UMJC. Accuracy and precision were vital, and CDH earned first place.
Overall, this UMJC competition was a huge success, being described as being well organized and put together by multiple schools in attendance. This competition will certainly set the example for many competitions in the future, including the 30th anniversary next year.
Subscribe to our e-Newsletters
You might also like: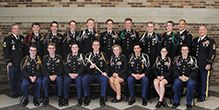 At the annual JROTC Diamond Promotion ceremony, William Burke '20 received the highest rank of Cadet Colonel and was assigned duties as the Brigade Commander.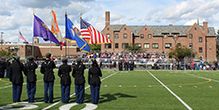 The ceremony formally marks the acceptance of the newest members into the Raider Brigade.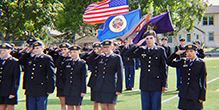 Fall Review will be held at 2 pm on September 25.