JROTC Recognizes Outstanding Cadets
May 18, 2020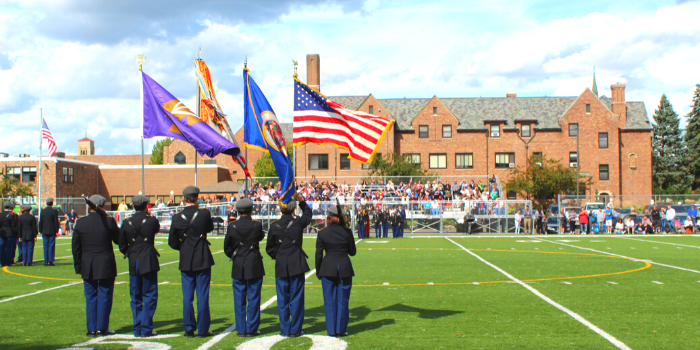 The evening of Wednesday May 13 was a beautiful evening, and it was supposed to be the annual JROTC Twilight Parade. The stands would have been overflowing. Lawn chairs and people would have crowded the north side of the field and even neighbors who have no affiliation with CDH, would line the fence and marvel at the sharpness, attention to detail, and self-discipline at one of the longest-standing traditions in the school's history.
It was a time to recognize individual achievements in the Raider Brigade, say goodbye to the seniors, transfer leadership roles to the juniors, and have the JROTC Instructors beaming with pride as 272 of the schools finest pass in review. Unfortunately, we couldn't do it, but we can envision it.
On behalf of LTC Fischer, SGM Berrisford, and MSG Peloski, we want to recognize the award winners for this year's Twilight Parade. We are not only proud of the award winners, but each and every one of you. You are what makes JROTC great.
UNITED STATES ARMY CADET COMMAND SUPERIOR CADET AWARD
ELLIE DOUGHERTY
SEAN XIONG
IZZY LAUER
ISABELLA KEATING
SONS OF THE AMERICAN REVOLUTION  LEADERSHIP AWARD
JACK PATWELL
SONS OF THE AMERICAN REVOLUTION CITIZENSHIP - 
SEAMUS DOUGHERTY
SONS OF UNION VETERANS OF THE CIVIL WAR - ADAM KOENIG
DAUGHTERS OF THE AMERICAN REVOLUTION - MONICA CALKINS
AMERICAN LEGION SCHOLASTIC EXCELLENCE
CHRISTIAN STROMMEN
CHARLIE LINDELL
ADAM SEWICH
AMERICAN LEGION MILITARY EXCELLENCE -
DARBY ANDERSON
ZACH STEIGUAF
DAN UMLAND
MILITARY OFFICERS ASSOCIATIONS OF AMERICA - ELI BROTMAN
RESERVE OFFICERS ASSOCIATION-  MAX CHRISTENSON
VETERANS OF FOREIGN WARS LEADERSHIP
STEPHEN JOHNSON
ALEX NGO
AVERY CAVANAUGH
AMERICAN VETERANS ASSOCIATION - BEN KIMLINGER
ASSOCIATION OF THE US ARMY - BRIAN WILLEMS
MILITARY ORDER OF THE PURPLE HEART - KIERAN WHITE
DAUGHTERS OF THE AMERICAN COLONISTS - RYLIE CORMELL
NATIONAL SOJOURNERS ASSOCIATION - KARINA KEIS
USMC SCHOLASTIC EXCELLENCE - MAX GUYOTT
USMC DISTINGUISHED ATHLETE
MARTHA ENESTVEDT
RYAN GAINER
MN SOCIETY DAUGHTERS OF 1812 - MARGARET MUSOLF
JROTC CITIZENSHIP AWARD - 
ALEX HEER
SAM ANDRZEJEK
NATASHA KRIEGER
EMERY BRATHWAITE
RAIDER BRIGADE ACADEMIC EXCELLENCE
EMMETT SEXTON
VALERIE KRINKE
HOLDEN SAUMWEBER
RAIDER BRIGADE MILITARY EXCELLENCE
CHARLIE THUENTE
CHRISTIAN PORNSCHLOEGL
STEPHEN XIONG
RAIDER BRIGADE SERVICE EXCELLENCE AWARD
ANDREW DOMLER
HENRY VOTEL
SAMANTHA PIZINGER
AYDEN BURKE
WILLIAMS BROTHERS SCHOLARSHIP
SAM SCHWEDA
VALERIE KRINKE
HUGH BURDA
Subscribe to our e-Newsletters
You might also like: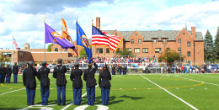 Congratulations to the JROTC cadets who would have received awards at the Twilight Parade!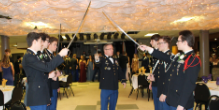 On February 22, Cretin- Derham Hall hosted the Military Ball for students in Junior ROTC.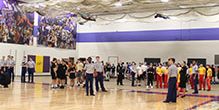 350 students from 14 schools competed in four major competitions.