Kenneth Udoibok '16 Returns to CDH as Student Mentor
October 7, 2021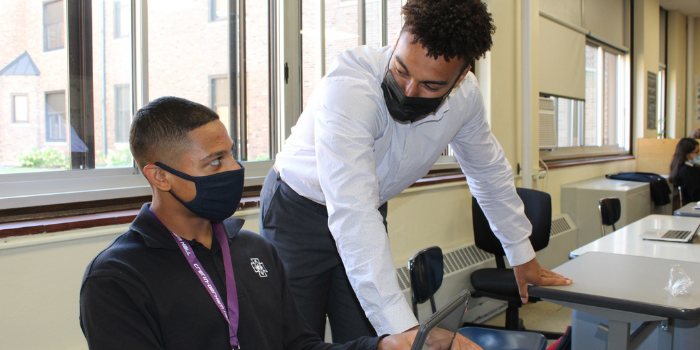 Kenneth Udoibok '16 has joined the Cretin-Derham Hall team as a Student Mentor and Athletic Assistant. 
This role was developed as part of CDH's commitment to support all of our students.
"The student mentor role was created to help students struggling to succeed at CDH emotionally, socially or academically," said President Frank Miley. "This is one more caring adult to ensure that all students have an exceptional experience at CDH, especially our BIPOC students."
Udoibok will be spending a large part of each school day in the Learning Lab, helping students achieve academic success. 
"I was a student that had a hard time in school," he said. "So I understand what it's like to struggle in school and need accommodations and kind of feel like you have all the odds stacked against you." 
He explains that he will be working with our students to make sure that they have all their work together, but also to be a listening ear to what's going on in their lives.

He wants to ensure that all of our students feel like they have caring adults on their side, which is why he is also working with Student Advocate Crystal Flint to create a mentoring program for students of color, in which students will be connected with BIPOC CDH alumni.
"Every student has a specific experience, and our non-white students might have a different experience than another student," he explained. "Our goal is to connect them to one of our alumni, someone of color that had a good experience here, who can be a relatable role model."
Udoibok is excited for the role because he believes that participating in a program like this as a student would have helped him develop a network that would have served him well both during high school and after graduation. 
"Kenneth Udoibok will be a wonderful addition to our staff," Miley said. "He is young, passionate, and knows what it takes to succeed as a student at CDH. I am delighted to welcome him back to CDH in a professional capacity."
Udoibok will also be supporting the Athletic office after school.
Subscribe to our e-Newsletters