The Librarian Recommends - April 2022
By Rebecca Strauss, Library Director
April 12, 2022
Our Library Director curates great reads for our students every day. Now, she's sharing some recommendations for the rest of our community to enjoy. Stay tuned every month for new suggestions!
How to Love the World: Poems of Gratitude and Hope
edited by James Crews
April is National Poetry Month and what better way to celebrate than with some amazing poems, including the ones found in How to Love the World. Here, poets including Joy Harjo, Amanda Gorman, and Ross Gay reflect on life and death, grief and hope, all with a deep sense of gratitude.
Bless the Daughter Raised by a Voice in Her Head
by Warsan Shire
-Somali-British poet Shire splashed onto the scene with her 2011 book, Teaching My Mother How to Give Birth. Here, she returns with a book of poetry inspired by her own childhood and journey to womanhood. The slim volume packs quite a punch as it celebrates all the black, female immigrants who have survived and thrived.
The Lost Words by Robert MacFarlane 
April is also Earth Month and what goes together better than nature and poetry!  Blending together lyrical poetry and enchanting illustrations, The Lost Words is the reminder we all need to appreciate the magic of language and the earth around us.
The Owl and the Nightingale by Simon Armitage
Sometimes the words are just as beautiful and magical as the pictures and that is the case with Armitage's most recent Middle English translation. The story of the Owl and the Nightingale may be several centuries old, but the repartee of the two characters describes and explores issues still relevant today. 
Subscribe to our e-Newsletters
You might also like:
In honor of the Class of 2022, consider a donation today.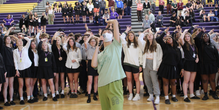 Our all-school assembly included music, dance, and a fashion show!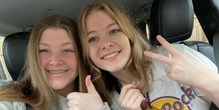 Follow along with a day as a CDH ninth-grader!