Memories of Blessed Brother James Miller
February 22, 2022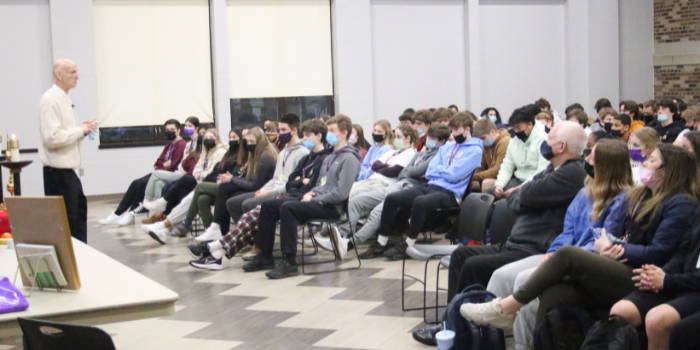 The feast day of Blessed Brother James Miller, a former Cretin student and teacher, was February 13. This year marks 40 years since he was martyred in Guatemala.
Blessed James was martyred while repairing a wall outside of the school where he was teaching. He was shot by three men, and died instantly. He was beatified in 2019.
On February 16, Brother Paul Joslin visited Cretin-Derham Hall to speak to religion classes. Joslin worked alongside Blessed James in Huehuetenango, Guatemala, and was one of the first people to his side after he was shot. Watch the presentation here.
He told the story of the week before Blessed James' death - a boy from the school was kidnapped by the army and Joslin went to the army base to bring him back to school. Legally, boys in school could not be conscripted, but that law was not always followed. After bringing the boy back to school, the Brothers heard a rumor that the military was targeting the subdirector - a title held by Blessed James, Joslin, and one of the Guatemalan Brothers. 
They talked for a long time about their plan, and all decided to stay in Huehuetenango rather than flee and leave the children and other Brothers behind. Just three days later, Blessed James was shot. 
We pray to Blessed Brother James Miller each day. Meeting Joslin allowed our students to connect more deeply to his story. 
"Since I was in ninth grade, I have heard about Blessed Brother James Miller," said Morgan Machtemes '22. "I knew he was killed, but getting to hear from someone who actually worked and lived alongside him was amazing."
Joslin hoped to inspire students to live out their own faith, and pursue a life full of meaning. 
"Brother Paul said Blessed James 'died doing something he loved,'" said Joey Rogers '22. "His story inspires me to help kids in third world countries. There are many poor children that don't have a lot of opportunities and it's inspiring that the Brothers were able to give them that."
The experience of visiting CDH was meaningful for Joslin, who lives in Philadelphia, as well.
"For me, today is so special because I am walking on holy ground," he said. "I don't have words for experiencing the beatification of a coworker. How often does that happen to anyone? I can't tell you how special it is for me to be here today with you."
More about Blessed Brother James Miller
Subscribe to our e-Newsletters
You might also like: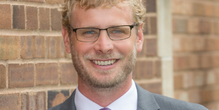 Joe Hutchins is named Dean of Students at Cretin-Derham Hall.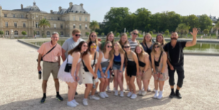 13 Cretin-Derham Hall students and 2 teachers spent time in France this past June exploring French culture and history.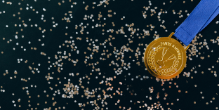 Cretin-Derham Hall graduates named 2021-2022 National Merit Finalists/Semi-Finalists/Commended Scholars.