New Roles for Familiar Faces
September 8, 2021
Some of the outstanding educators on our staff are taking on new roles this school year! Get to know more about them below:
Crystal Flint - Student Advocate
Previously: Sub Coordinator. Flint is also our Girls Basketball coach.
Cretin-Derham Hall: Why were you excited to take on this role?
Crystal Flint: The scholars are why I do what I do! I will provide a safe haven for scholars to be seen, heard, and supported as well as help them navigate CDH from their first year through graduation. I have worked with scholars for over 15 years in this kind of capacity (10 at the higher education level at the U of MN and Concordia University). I have always wanted to get back into this kind of work. I feel my God-given talents are displayed and I am in my element when working with scholars to discover what they are passionate about as well as exposing them to opportunities and resources that will help them for years to come. I am excited about assisting scholars who need someone to advocate for them.

CDH: How would you describe this role and what you will be doing?
CF: I will serve as a liaison between our scholars and faculty/staff and administrators. My role as the point person will allow me to serve and provide assistance to BIPOC and first-generation scholars. I will expose scholars to each other (allowing them to build community within CDH) and to resources in the community, and create an opportunity for families to come together and assist each other. There will be opportunities for individual/group meetings, off-campus visits, guest speakers, community service opportunities and student feedback on what would be helpful.

CDH: What are your goals for this year in this role?
CF: To set a solid foundation of trust, increase student engagement, and let scholars know that CDH values ALL scholars and is working diligently on their behalf. Parent involvement will also be an important focal point of this year. We want our scholars to feel a sense of pride and belonging.
Chris Hill '01 - Theater Director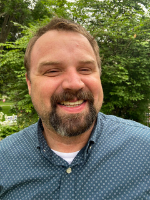 Previously: Assistant Theater Director
Cretin-Derham Hall: What do you love about working at CDH?
Chris Hill: Being able to provide students with opportunities to explore creativity and art in a safe and welcoming environment is my favorite part of my work at CDH. I love to see students find their passions.

CDH: Why were you excited to take on this role?
CH: I am excited to see how I can support and grow the CDH Theater. I am excited to see what CDH students create and perform this school year. I'm always surprised by what Raider artists come up with.

CDH: Why is Theater an important part of the CDH experience?
CH: As a student at CDH I found a home in the theater. The relationships you foster participating in plays and musicals last a lifetime. Some of my closest friends came from my experiences in the Lillian Theater. The work we do supports emotional growth and makes you a more empathetic person. Plus, it's a boatload of FUN!

CDH: What are your goals for our Theater department this year?
CH: My goal is to create theater experiences that celebrate what makes CDH great. I want to keep putting on the high-quality shows CDH Theater audiences have come to expect. I am excited to see student actors and crew come together and get the much deserved cheers and applause after all their hard work.
Mark McGuire - Campus Minister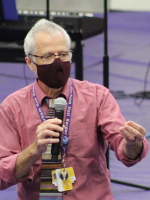 Previously: Math teacher
Cretin-Derham Hall: What do you love about working at CDH?
Mark McGuire: The relationships. I love working with my colleagues and my students, creating meaningful relationships with a goal of making the lives of teenagers - and our own lives - better.

CDH: Why were you excited to take on this new role?
MM: After 26 years of teaching math in a classroom setting, I was excited to work with my colleagues and students in a new way. I love our dedication to service and Catholic social teaching and look forward to diving into that. Also, I look forward to working with my colleagues and students on liturgies.

CDH: Why is Campus Ministry an important part of the CDH experience?
MM: It really allows us to teach to the whole student: academic, physical, social, emotional, mental, and spiritual. Through service, retreats, liturgies, and prayer services, Campus Ministry provides creative and relevant ways for students to explore their spiritual, physical, social, emotional, and mental health.

CDH: What are your goals for Campus Ministry this year?
MM: We have an excellent Campus Ministry department and I hope to build on what they are already doing by inviting more participation of faculty and students in planning and implementing activities. So, I guess, my goal is to get more people involved in Campus Ministry :)
Nick Zahler - Activities Director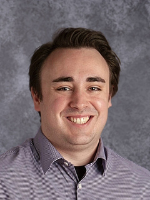 Previously: Zahler was and will continue to be our Band Director.
Cretin-Derham Hall: What do you love about working at CDH?
Nick Zahler: What I love most about CDH is the sense of community and support amongst the staff and students here. Students are passionate about what they do, and we work hard to make sure they get the support they need.
CDH: Why were you excited to take on this role?
NZ: I'm excited to bring my own perspective and lens to support student activities and interests. I've served as a liaison for student activities and interests before, and always worked to ensure that activities are represented fairly and equally.
CDH: How would you describe this role and what you will be doing?
NZ: I like to see this role as a facilitator for student enrichment opportunities and an advocate for student interests. There are lots of opportunities for activities and clubs, some of which are new, innovative, and student-driven. I think this role is to help advocate for and support those new activities and ideas.
CDH: Why are Activities an important part of the CDH experience?
NZ: Activities are one thing that sets CDH apart from other schools. To name just a couple, literary magazine, speech, theater, band, choir, ultimate frisbee - our opportunities are expansive, varied, and thriving. There is something for everyone.
We're thrilled to have these talented people taking on these important roles!
Subscribe to our e-Newsletters
You might also like: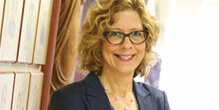 A message from Principal Mona Passman.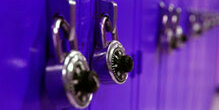 The latest news from Athletics, Counseling, Theater, Choir, Band, and JROTC.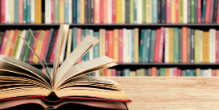 Looking for your next read? Check out these great recommendations from our librarian!