Personal Finance Students Welcome Guest Speaker
February 19, 2021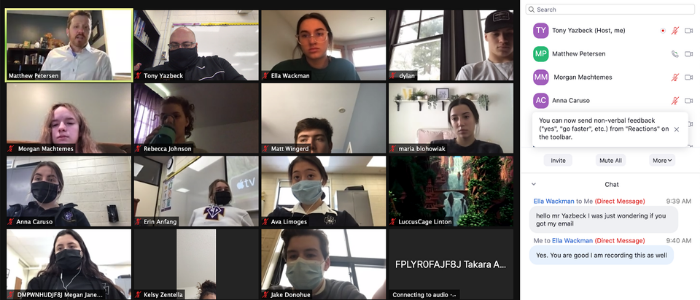 Tony Yazbeck's Personal Finance classes recently welcomed a guest speaker via Zoom. Matt Petersen, a Regional Director with T. Rowe Price, spoke to the classes about many key aspects of saving, investing, and retirement planning. The discussion centered around 401K retirement funds, IRAs, and how compound interest works.
"Mr. Peterson was very informative in teaching us how to be successful in retirement and as we get older. It is very important that we learn how to have a budget and save money especially during these critical years of preparing for college," said Ella Wackman '22. 
This speaker is always a favorite for the Personal Finance class. Students are often inspired by the power of compound interest, demonstrated by calculating the difference at age 65 between saving $2000/year from ages 19-26 compared to not beginning to save until age 27.
"The best part about the presentation was that everything Mr. Peterson shared could seriously be applied to real life," said Erin Anfang '21. "The stories and examples he talked about were all very engaging and have really stuck with me." 
Several students had many questions for Petersen and were very engaged in what their futures will look like if they start saving as soon as they can. 
"Hearing about all of the important information that comes along with personal finance inspired me to have a conversation with my parents," Anfang said. "We talked about the best ways I can start to save money now in order to set myself up for a great future." 
Wackman was also inspired to have a conversation with her parents about saving for the future.
"After hearing from Mr. Peterson, I have talked to my parents about setting up an IRA and starting to save my money successfully," she said. "Personal Finance has taught me so many lessons that I will apply to the real world."
Subscribe to our e-Newsletters
You might also like: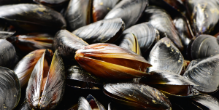 AP Biology students are sharing their knowledge about freshwater mussels.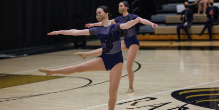 Sullivan is the first Dance Team member to receive this award.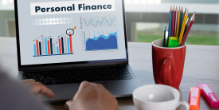 The speaker focused on savings, investments, and preparing for retirement.